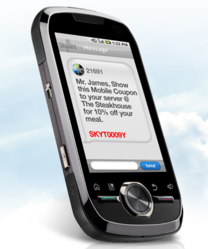 Our patented event based triggers allow our customers to stimulate more spend on their property....
Las Vegas, NV (PRWEB) June 15, 2011
JC Resorts has selected the SkyWire Media Rooms Connect™ solution to provide a rooms ready alert and marketing Opt-in service to guests at the exclusive Rancho Bernardo Inn in San Diego and the award winning Surf & Sand Resort located in Laguna Beach. This service will allow early arriving guest to do a partial check in while they wait for the room to become available and then be automatically notified via Text Messaging when the room enters a "Ready" status in the MICROS® Opera Property Management system, by the housekeeping department. "This new technology from SkyWire will allow us to elevate our guest service levels, not only by improving overall communications, but also expediting the delivery process of our guest notifications from front desk and/or leisure sales agents." Says Lindsay Myers Director of Leisure Sales for JC Resorts.
JC Resorts has also selected Mobile Connect™ and Coupon Connect™ which will feature SkyWire's patented mobile technology of event based triggers allowing the "Rooms Ready" message to trigger new mobile offers to the guest in retail, spa or food and beverage outlets. These enterprise offers are integrated with the MICROS® POS system which closes the loop for marketing, provides detailed accounting for finance and helps prevent fraud. "Our patented event based triggers allow our customers to stimulate more spend on their property which keeps the guests onsite and engaged with the brand" Commented Thomas Castleberry, Chief Operating Officer at SkyWire Media, Inc.
The Mobile Connect™ Product Suite provides seamless integration to POS terminals, property management systems, player tracking and customer resource management databases. Now, with the capability to create mobile triggered events, enterprises can auto-schedule messages to be sent out to specific segmented databases of targeted customers based on specific time frames, and other individual designated preferences.
SkyWire Media will be showcasing their products at the 2011 HITEC conference in Austin, TX June 20th-23rd. See them in Booth 343 http://www.hftp.org/Pages/Events/HITEC/Attendees/HITECExList.aspx
ABOUT JC RESORTS
Since 1971, JC Resorts has been a proven leader in the management and operation of premium golf and resort properties where diverse entities are united by the same authentic vision - Making memories, every guest, every time. That means impeccable service without stuffiness, attention to detail without stifling formality and comfortable accommodations without the trace of pretentiousness. We revel in the unique and offer a customized approach to maximize the performance individual properties while enhancing their distinctive character. Our properties include Surf & Sand Resort in Laguna Beach, Rancho Bernardo Inn Golf Resort & Spa in North County San Diego, Scripps Inn in La Jolla, and Temecula Creek Inn in Southern California Wine Country. JC Resorts' properties have received numerous awards, including "Best California Resort" by Links Magazine, "One of the World's Top Hotels" by Travel + Leisure, and "Number One Resort Spa in North America" by Condé Nast Traveler. To learn more, visit http://www.jcresorts.com
About SkyWire® Media -- (http://www.skywiremedia.com) -- SkyWire Media, Inc. develops integrated, mobile-centric applications that allow hospitality service providers to reach their customers via real-time SMS text messaging. SkyWire Media's Mobile Connect™ Product Suite is designed to reduce marketing costs, generate revenue and enhance guest service. Mobile Connects™ modular solutions include: Mobile Connect™, Rooms Connect™, Table Connect™, Progressive Connect™, Poker Connect™ and Emergency Connect™. In addition, SkyWire Media also develops Mobile Applications and provides Workforce Dynamics™, an integrated labor management solution designed for hospitality. For more information, text 'SKYWIRE' to 56242, visit them on the web at http://www.skywiremedia.com or contact a sales representative at (866)-514-5888.
###