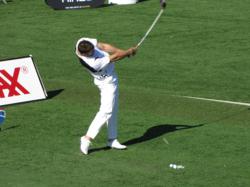 After Six Major Long Drive Tour event wins in a row, there is no doubt the Krank Golf Rage Driver is the most dominant and highest performing Golf Driver to ever be used in the Sport of Long Drive.
Tempe, AZ (PRWEB) June 14, 2011
We want to congratulate Canadian Houston Hair hitting the Krank Golf Rage Driver for taking down the coveted title at the LDA's Tennessee Shootout. Houston is new to Long Drive and has made a significant impact on the sport in a very short time. Using his skills as a former professional hockey player, Houston learned quickly how to convert his slap shot into a formidable golf swing with all the power needed to smash golf balls 400+ yards. He will be a force to be reckoned with for years to come.
"It has been a thrill to see our Driver perform at such an elite level. We aren't just winning events, we are winning in a way that has never been done in the 30 year history of the Sport of Long Drive. Here are the results of hitters using the Rage Golf Driver in the past 4 Long Drivers of America Professional Long Drive Tour event Finals.
1. LDA Mesquite Shootout 2011 - 1st, 2nd, 3rd, 4th, 5th, 7th, 8th
2. LDA Alligator Alley Shootout 2011 - 1st, 2nd, 4th, 5th ,6th
3. LDA Texas Shootout 2011 - 1st, 2nd, 3rd, 4th, 6th, 7th, 8th
4. LDA Tennessee Shootout 2011 - 1st, 2nd, 4th, 5th, 6th, 7th, 8th
Driver performance is all that matters in this Sport. Either hit the Krank Golf Rage Driver or be hitting at a disadvantage. It's really that simple." Says Lance Reader, President of Krank Golf
Krank Golf has one thing on their mind, day in and day out, that is to maximize the possible performance of their golf drivers. From testing new metals to pushing the limits of metal hardness, Krank Golf is committed to finding the max and then exceeding it. Obviously, their efforts are paying off. With a total of 5 RE/MAX World Long Drive Championship wins and more official Long Drive Tour wins than any other golf company in history, Krank Golf is proving there is a big advantage in accuracy and distance when hitting their Drivers. All Krank Golf Drivers are USGA Conforming.
As far as the Professional golf tours around the world, the Krank Golf Rage Driver is currently being played on the European, Asian and many, many smaller tours today. The PGA Tour is their next target. Simply take notice; it's just a matter of time.
Krank Golf is proud to announce the release of the next generation Rage Black and limited edition Rage White Drivers. Krank Golf understands the difficulty at improving the Original Rage Driver. The simple truth is there is always room for improvement. This next Generation Rage Driver is lighter, faster and stronger than the original Rage. Thus, creating higher ball speeds with more directional control. Come experience the best Driver in Golf and/or Long Drive. It's a proven fact!
For those interested in knowing more about the next generation Rage Black and limited edition Rage White Drivers or are interested in promoting Krank Golf and/or selling Krank Golf Drivers, please visit us at http://www.krankgolf.com or contact Krank Golf directly at (480) 699-5041.
###