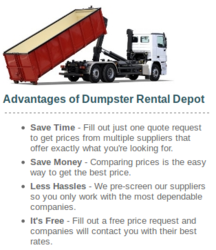 Sample Customer Request: "I need to remove a 12x18 garage, not insulated. What can't I throw away? I will also eventually need to remove the 12x18 pad it is on. I am thinking this will be a different bin, but not sure."
Los Angeles, CA (PRWEB) June 23, 2011
Dumpsters are a necessity in the everyday lives of all Americans. Trash is created and disposed at a rapid pace and it is important to know what the constraints of a local municipality may be. Cities can choose single dumpster companies to service an entire area. They can also make it illegal for certain types of waste to be disposed of in those dumpsters and make it harder to rent one by requiring a permit, even for driveway placement.
This is why DumpsterRentalDepot.com has exapanded its online network to include the entire United States for any company or individual needing to locate a rental in their area. With a few simple clicks, pricing requests will be sent to several local companies who then compete for a customer's business. These companies will be able to answer any questions pertaining to the use of a roll off container in a given area.
Hours upon hours can be spent searching through print ads and countless search results trying to find companies to compare and researching the local regulations. DumpsterRentalDepot.com has streamlined this process with an easy to use nationwide interface. Best of all, it is completely free to customers.
###