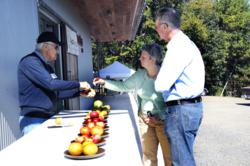 You could drive 30 miles of the Parkway if you wanted while touring the wineries
Dugspur, VA (PRWEB) June 14, 2011
Enjoy wine, cider, and mead paired with unique cheeses during the Mountain Road Wine Experience's "Wined and Cheese Tour" on June 18 through 19. Visitors can begin at any winery and guide themselves along this high-altitude wine trail, which has the distinction of being the only trail in Virginia and the Blue Ridge Mountains that produces wine, hard cider and mead (wine made from honey).
"The wineries have chosen different cheeses, toppings and breads to pair with the wine, cider and mead that would be tasted," explains owner of Foggy Ridge Cider Diane Flynt. "These are artesian breads and cheeses. At Foggy Ridge Cider, we are serving cheeses from an Amish cheese maker from Pennsylvania along with walnut bread."
The Mountain Road Wine Experience is comprised of six wineries in southwest Virginia and begins 15 miles southwest of Roanoke with AmRhein Wine Cellars in Bent Mountain. Next, the trail picks up Attimo Winery in Christiansburg, Va. From there, it continues southwest 35 miles to Villa Appalaccia Winery and Chateau Morrisette Winery, both near the town of Floyd. The final two wineries are 12 miles further southwest near Dugspur. They are Blacksnake Meadery and Foggy Ridge Cider.
The wine trail takes visitors through the Blue Ridge Parkway and mountain roads through southwest Virginia. "You could drive 30 miles of the Parkway if you wanted while touring the wineries," Flynt says. "Because of our location, we're much cooler by several degrees, and we believe we are a perfect escape from the heat for many."
The "Wined and Cheese Tour" is from 11 a.m. until 5 p.m. on Saturday and Sunday. Tickets are $25 and can be purchased at any of the six wineries. Tickets cover both Saturday and Sunday. The Mountain Road Wine Experience hosts two special tasting tours per year. The first is the second weekend of June, followed by another the second weekend of September.
For more information or to find more places to visit in Virginia, visit online at http://www.mountainroadwineexperience.com or http://www.trueblueridge.org.
# # #