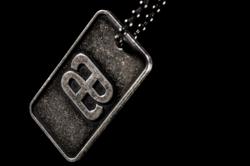 We chose the bullet to convey our vision: turning an instrument of harm into a symbol of hope and healing.
San Diego, CA (PRWEB) June 16, 2011
After serving as Naval Explosive Ordinance Disposal officers, Erik Spalding and Cole Evans were responsible for the diffusion and disposal of the improvised explosive devices that have become an all-too-common occurrence during the conflicts in Iraq and Afghanistan. As founders of Bullets2Bandages.org, they have found a way to take other instruments of war and transform them into tools for healing.
Bullets2Bandages is a campaign designed to help the veterans and families negatively affected by the War on Terrorism, a devastation that Spalding and Evans have witnessed firsthand. Co-Founder Erik Spalding elaborates, "Bullets2Bandages is a way for us to give back to those who have selflessly risked their lives for our country. Even though we no longer serve in uniform, we find it impossible to walk away from the ongoing struggles that veterans and their families are forced to endure."
The program promotes the sale of a fashionable line of bullet jewelry created from demilitarized bullets and decorative dogtags. The proceeds from these sales are donated to the Travis Manion Foundation a non-profit organization that is especially meaningful to Spalding and Evans. It honors the late First Lieutenant Travis Manion, a classmate and friend of theirs during their years at the Naval Academy. It was Travis' passion to make a difference coupled with the strength and compassion embodied by the Travis Manion Foundation that motivated the two to undertake such an ambitious campaign.
As for the inspiration for using bullets as a material for jewelry-making, Spalding explains, "We chose the bullet to convey our vision: turning an instrument of harm into a symbol of hope and healing." The two founders hope that any publicity gained by the Bullets2Bandages campaign will help their vision resonate with other businesses. "We'd like to spread the message that while the goal of every business is to be profitable, there is still a place for businesses of all types to give something back, not only to their local community, but to their country."
Those interested in supporting this cause can refer to http://www.bullets2bandages.org or contact Erik Spalding at 619-800-2405 for more information. To learn more about the Travis Manion Foundation, please visit http://www.travismanion.com.
###