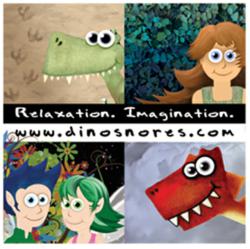 Parents are always on the lookout for new ways to help make bedtime easy
Sydney, Australia (PRWEB) June 15, 2011
Parents now have a new way to help their children sleep. Dinosnores has produced a range of children's story CDs that use guided relaxation and visualisation techniques.
Sherene Alfreds, a paediatric speech pathologist and the child language development expert behind Dinosnores, explains, "Our stories are fun for kids, but that's not all. They use calming vocal rhythms and soothing natural sounds to teach guided relaxation and visualisation techniques. Our stories help children focus on slowing their breathing, and relaxing their bodies, ready for sleep."
"Our stories are also designed to develop children's listening skills and attention spans."
Stuart Walton, the Director of Dinosnores, says, "Parents are always on the lookout for new ways to help make bedtime easy, particularly activities that promote language development and learning. Our soundscapes evoke an imaginary world full of sleepy little creatures. They're great for use at home, in preschools and childcare centres, or when travelling. And because our stories can be purchased from iTunes, they're instantly available anytime children find it difficult to settle."
"Our stories are already being used in childcare and and long day care centres, and we have produced a range of CDs to make sure there's one that will appeal to every child - whether they're a sleepy mermaid, a snoozy tyrannosaur, a snoring fairy, or a yawny dragon."
Parents who would like to learn more about Dinosnores, and listen to samples from each story, can visit http://www.dinosnores.com
# # #