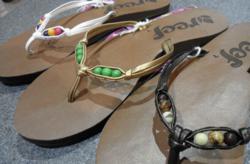 This collaboration is a great opportunity to make a positive impact and raise awareness to very important causes
San Diego, CA (PRWEB) June 15, 2011
Acai Roots, a lifestyle brand, top supplier of natural and organic Brazilian style super food acai products, is pleased to announce a first time sandal collaboration with Carlsbad based surf brand, Reef. The Reef Ah-Sy-Ee sandal, which retails for $40, is adorned with Acai seeds harvested sustainably by Acai Roots. Through the sale of the seeds to Reef, Acai Roots has pledged that 100% of the net profits from the collaboration will be donated to Rhythm of Hope, a non-profit dedicated to improving the lives of people in marginalized communities in Brazil.
Apart from the humanitarian aspect of the donation, this particular project also helps raise awareness to the importance of sustainability in the Amazon. Local farmers and families benefit from wild harvesting of the acai berries, which is done by hand, but also by utilizing the seeds to make jewelry, or in this case, a decorative bead for a sandal. Furthermore, the employment opportunities created by the sustainable practices in the Amazon serve as motivation for locals to continue to protect the rainforest.
"We are very excited about this project in partnership with Reef. At Acai Roots, we put into practice a responsible and sustainable business culture. This collaboration is a great opportunity to make a positive impact and raise awareness to very important causes," said Igor Pereira, Acai Roots co-founder and CEO.
The partnership with Rhythm of Hope is near and dear to Acai Roots, as well as Reef, because of the strong Brazilian connection to both brands. Net profits raised from the collaboration will directly benefit art-based programs intended to provide hope to the many underprivileged children of the Favela's in Brazil.
The Reef Ah-Sy-Ee sandal is currently available for purchase at select retailers around the world.
Click HERE to watch the official video and learn more about the social project.
ABOUT ACAI ROOTS
Have you ever missed something from your childhood? Something that was phenomenally good for you, and you knew it?
That was the feeling that gripped several Brazilian expatriates one day in 2005. They had just finished playing soccer in San Diego.
"We had all grown up with acai, and we started talking about how great it was in Rio with that active lifestyle – the Cariocas of Rio are famous for having an active lifestyle and a balanced diet, and acai is a big part of that. That was the missing piece: the acai. There were companies bringing it to the U.S., but it just wasn't what we grew up with – it wasn't fresh. So we decided to start Acai Roots, and do it right."
Today Acai Roots offers a full line of delicious and healthy acai berry products including organic acai sorbet, organic juices, smoothies and supplements. Formulated to exacting standards by Brazilians who were born and raised on a healthy diet of acai.
For more information, please visit http://www.acairoots.com. You can also Like Acai Roots on facebook or follow us via Twitter @acairoots.
ABOUT REEF
Reef is the exotic beach brand with its roots in an authentic surf heritage and a mysterious sensual spirit.
Our purpose is to create innovative, comfortable products through a free-thinking, inspirational and soulful culture.
###