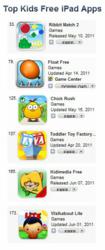 Palo Alto, CA (PRWEB) June 14, 2011
Six apps built with Corona SDK, a mobile framework created by Ansca Mobile, are currently in the Apple App Store's Top Free Kids Games chart for iPad. The feat comes on the heels of Corona-made apps topping 16 million downloads in 2011, further demonstrating the framework's ability to empower users to create top apps.
The apps currently in the Top Free Kids Games chart are:

Ribbit Match 2 (#33): Preschool matching game for children ages 3-5, created by Grand Junction, Colorado-based WeaveSoft Apps.
Float Free (#79): Simple yet addictive balloon-juggling game from Chicago studio Crawl Space Games. Previously chosen by Ansca Mobile as App of the Week.
Chick Rush (#125): Tilt-based "chicken crosses the road" obstacle game by the U.S. and China-based GeoWok mobile apps studio.
Toddler Toy Factory Free (#137): Teaches kids spelling and reading by building letter-block toys. Created by Pennsylvania-based 21 x 20 Media.
Kidimedia Free (#165): A suite of children's games (an "interactive playground") for iPad including jigsaw puzzles, brain teasers, and many more downloadable games from the Kidimedia web site.
Walkabout Lite (#173): Colorful navigation puzzle game by London mobile development studio Base 2 Solutions. Also previously chosen by Ansca Mobile as App of the Week.
For Joshua Weaver, creator of the #33 top-selling game Ribbit Match 2, the achievement is especially notable since he had no prior experience with programming apps before using Corona. "I'm a designer by trade, so I have experience with designing things that people like to look at and use," said Weaver. "However, programming them is a whole other story. Luckily, Corona minimized the learning curve, so I was able to focus on perfecting my ideas, and less time worrying about how to code them."
Ansca Mobile co-founder Carlos Icaza said he wasn't surprised that a first-timer like Weaver was able to create a top-selling app, given Corona's track record of propelling novice app developers to App Store success. "We've always believed that anybody can have an idea for a useful and popular app," said Icaza. "But a lot of people are discouraged by the overly complicated nature of programming apps with other mobile development frameworks. With Corona, we make sure that process is as simple as possible, so more people can make their visions come to life."
Corona SDK is free to use for an unlimited trial, with subscription options available on Mac (iOS and Android development) or Windows (only Android development) when users are ready to publish their app.
About Ansca Mobile
Ansca, Inc. (http://www.anscamobile.com) is a venture-backed Palo Alto, CA-based mobile development company founded by two former Adobe mobile engineers who previously led the Adobe Flash Lite engineering team. Their Corona SDK mobile toolkit empowers developers of all backgrounds to create games and applications for Apple's iOS and Google's Android mobile platforms. So far in 2011, apps created with Corona SDK have been downloaded over 16 million times across iOS, Android, and the NOOK Color.
###