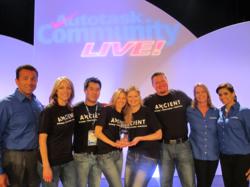 Awards like these are very important indicators of how well the channel vendors are doing in the eyes of their partners
East Greenbush, NY (PRWEB) June 14, 2011
Two of the Channel's most innovative vendors have been honored with new awards based on votes garnered from more than 770 MSPs, VARs and other IT service providers who attended the recent Autotask Community Live event in Miami, FL.
Axcient, Inc., won the coveted "Best in Show" award, and Level Platforms won the award for "Most Valuable Integration" with Autotask®, the world's leading cloud-based IT business management software.
Axcient and Level Platforms were among 45 of the Channel's top vendors, suppliers and distributors who participated as sponsors at Autotask's worldwide customer conference. Votes for the vendors were cast by attendees using an innovative, multi-purpose mobile app that Autotask deployed to provide a wealth of convention information and other functionality for conference attendees.
"Awards like these are very important indicators of how well the channel vendors are doing in the eyes of their partners," said Len DiCostanzo, Senior Vice President of Business Development for Autotask Corporation. "We established these two new awards to give our event sponsors an opportunity to shine, and to get direct feedback from our customers."
Axcient, Inc., an award-winning innovator of comprehensive data backup, business continuity and disaster recovery services for Managed Service Providers (MSPs), Value Added Resellers (VARs) and their Small and Mid-Sized Business (SMB) customers won the Best in Show award. Axcient was a Silver Sponsor and made a major investment by bringing a large contingent to the 3-day event and hosting a number of special gatherings.
"We are honored that Axcient was chosen for this award by the MSPs, VARs and IT Solution Providers at Autotask Community Live 2011 in Miami," said Justin Moore, CEO of Axcient. "Winning Best in Show is a testament to the quality of our innovative product, our commitment to our partners, and the tireless dedication of our team."
Joining Axcient on the award podium was Level Platforms, who brought home the much-sought-after award for Most Valuable Integration with Autotask. Level Platforms is a long-time partner of Autotask, and a pioneer provider of managed services software for IT solution providers serving small and mid-sized customers with its award-winning, remote monitoring and management software, Managed Workplace®.
"Our partnership and integration with Autotask is paramount in delivering the most comprehensive solution for MSPs who use Managed Workplace," said Dan Wensley, Vice President of Partner Development and Marketing at Level Platforms. "This award is recognition for the years of ongoing development that both Level Platforms and Autotask have invested in creating a powerful and seamless MSP workflow for our mutual partners."
About Axcient, Inc.
Axcient delivers a unique and unified platform for backup, business continuity, and disaster recovery that offers unprecedented ease of use and uptime to the SMB market. Built from the ground up as an all-in-one data protection solution, Axcient combines the best elements of an on-premise appliance with the cost savings of a cloud-based disaster recovery service.
About Level Platforms
With thousands of IT service provider partners in 30 countries, Level Platforms is the leading provider of managed services software for IT solution providers servicing small and mid-sized end customers through its award-winning remote monitoring and management software, Managed Workplace®. For more information.
About Autotask Corporation
Autotask Corporation provides the world's leading hosted IT Business Management software built specifically for VARs, MSPs, and other technology solution providers to help them run their businesses better. The software is available on demand to help IT solution providers to sell, implement, deliver and bill their technology products & services.
Autotask® is a registered trademark of Autotask Corporation. All other trademarks mentioned in this document are the property of their respective owners.
Media Contact: Bob Vogel
bvogel(at)autotask(dot)com
In US: +1.518.720-3500
# # #