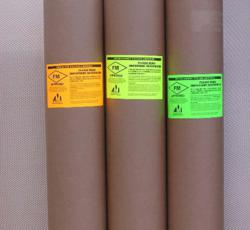 We have gone one step further and imprinted the FM Approved rating right on our hot work fabrics making it easy for inspectors or facility and safety management personnel verify the right material. - Kathie Leonard, President/CEO
Mechanic Falls, ME (PRWEB) June 15, 2011
The use of Listed and/or FM Approved (third-party certified)welding blankets, pads and curtains is now a requirement throughout the State of California, according to a recent report from FM Approvals. The report appeared in the 2011 edition of Approved Product News and specifically states, "the State of California updated its fire prevention and suppression procedures and methods requirements to incorporate the 2009 edition of NFPA 51B, Standard for Fire Prevention During Welding, Cutting and Other Hot Work."
The revised NFPA 51B includes these provisions:

Updated permit information
Clarification of the "35-foot" rule
Alternative methods to hot work
Requirements for the hot work contractor site-specific hazard awareness
New requirements for PPE
"California is the first state to require adherence to the 2009 standard, thereby making hot work safer," says Kathie Leonard, President and CEO of Auburn Manufacturing, a leading manufacturer of heat-resistant textiles. "The NFPA 51B Fire Prevention During Welding, Cutting and Hot Work Standard is most often cited by both government agencies (OSHA, DOE) and private industry groups (API, AWS) for fire protection. Prior to the 2009 revision, the standard recommended only the use of 'heat-resistant tarpaulins,' which is a vague term that allowed un-tested, non-rated materials from unknown origins to be used for fire protection. The lack of testing requirements resulted in disastrous fires and property losses," Leonard continued.
In order for welding blankets, curtains and pads to be Listed or FM Approved they must undergo and pass stringent third-party testing to ANSI/FM 4950, certification and ongoing audits. AMI, a U.S. manufacturer, was the first to have its most commonly used hot work fabrics tested and approved. Today AMI continues to lead the way by offering the largest selection of U.S. made hot work fabrics for any kind of horizontal or vertical hot work procedure including welding, grinding, chipping, heat-treating or sand blasting.
According to Tom McCarty, senior engineering specialist at FM Approvals who played a critical role in the FM Standards development and its incorporation into NFPA 51B, the adoption of NFPA in California means that trained and knowledgeable jurisdictional inspectors in the state will be looking for FM Approved welding materials to be used during hot work operations at locations in their jurisdiction.
Inspection is important," says AMI's Kathie Leonard, "too often materials are purchased that meet no safety standard and turn out to be ineffective fire protection products. The Standard requires the products to be clearly labeled. We have gone one step further and imprinted the FM Approved rating right on our hot work fabrics making it easy for inspectors or facility and safety management personnel verify the right material is being used, even when the label has been removed."
About Auburn Manufacturing, Inc.
Since its founding in 1979, Auburn Manufacturing, Inc., has become a leading developer, manufacturer, and marketer of textile products for hundreds of extreme temperature industrial applications throughout the world, including welding protection, industrial insulation, safety apparel, gaskets and seals, and other MROP and OEM (Original Equipment Manufacturer) applications.
###