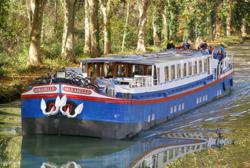 Passengers will relax while traveling the River Garonne, Gironde Estuary, and the Dordogne River with a personal wine connoisseur.
Tucson, AZ (PRWEB) June 15, 2011
Gateway Destinations in partnership with France Cruises, is pleased to announce the Bounties of Bordeaux Wine Cruise this September 2011. This 11-day package has been designed exclusively to highlight the wines of the Bordeaux region in southern France. Relax while enjoying a six-day cruise on the Mirabelle hotel barge and spend an additional three days exploring the beautiful Dordogne River valley.
The trip will begin with three nights at La Ferme Lamy, a charming traditional farmhouse hotel, in the French Perigord countryside. Guests will explore the historic villages of the Sarlat, Domme, and La Roque Gageac, and even participate in an authentic truffle hunt!
Guests will be transferred to the Bordeaux area to embark on a six-day exploration of this renowned region. Aboard the Mirabelle, passengers will relax while traveling the River Garonne, Gironde Estuary, and the Dordogne River with a personal wine connoisseur. On-shore excursions will include numerous wine tastings at a variety of Bordeaux vineyards and exploring the charming countryside and villages.
"With a 1-to-3 staff to guest ratio while cruising, guests will be pampered as they enjoy delicious regional cuisine prepared by our personal onboard chef. Servers are English-speaking and available to assist you throughout the day, but a self-serve wine and coffee bar is also available as an added convenience," said Jan Acorn, owner of Gateway Destinations. "The personal wine connoisseur will not only educate guests about the renowned Bordeaux wines, but also lead an in-depth discovery of culture, history, gastronomy, and traditions of this rich region."
This package is limited to 22 guests and is only available from September 1-10, 2011. The cost is US $4875.00 per person (based on double occupancy).
Tour includes 3 Nights/4 Days in Dordogne with daily breakfast &dinner, truffle hunt and guided excursions, followed by 6 Nights/7 Days aboard the canal hotel barge Mirabelle including all meals with wine and open bar, all shore excursions, wine tastings & wine education.
About Gateway Destinations:
Gateway Destinations, LLC, an affliliate of Bon Voyage Travel, provides custom travel planning services to individuals, couples, and small groups to Alaska, Hawaii, and foreign destinations. In addition, Gateway Destinations creates custom small group tours (escorted and unescorted) and specializes in guided tours for women.
# # #