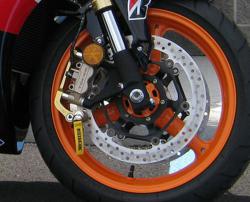 Choosing a reliable partner with great customer service in new markets is very important to us.
Newburgh, NY (PRWEB) June 14, 2011
RoadLoK Security, manufacturer of motorcycle locking systems now distributes product into the United Kingdom through its newest retail partner, Two Wheel Centre located in Mansfield, Nottingham,UK.
THE NEWS
RoadLoK Security has announced the retail availability of motorcycle locking systems through its newest distribution partner, Two Wheel Centre, located centrally in the United Kingdom. "This new retail outlet will offer our UK and European customers easier and more direct access to RoadLoK products" states Adam Xavier, CEO of RoadLoK Security. "We are dedicated to great customer service here in the US, so choosing a reliable partner with great customer service in new markets, such as the UK, is very important to us." RoadLoK brand motorcycle locks are an addition to the already extensive lists of accessories and riding apparel offered by Two Wheel Centre. "Riders in the UK are very security conscious", says John Keogh, Designer and UK Commercial Liaison Director for RoadLoK Security, "and tying up with Two Wheel Centre is an important step in offering the unique RoadLoK system to more UK and European customers." All systems can be purchased online at: http://www.twowheel.co.uk through an easy ordering system with free shipping throughout the UK.
Two Wheel Centre is a leading supplier of motorcycles and accessories for all makes and models. Along with having an extensive on-line mail-order catalogue, they are centrally located to offer easy purchasing and quick delivery throughout the UK. All RoadLoK brand motorcycle locks will be available through their online store as well as their dealership in Mansfield. Customers in the UK will be guaranteed the same Lifetime Warranty as all RoadLoK systems. In addition, the RoadLoK XRA is Thatcham approved for quality and security.
The new UK location for product distribution will allow RoadLoK to focus on producing new and innovative locking systems for popular motorcycle and scooter brands such as Triumph, Vespa and Piaggio within the European riding community. Continuing product development will ensure that riders of motorcycles and scooters will be offered safer security solutions.
ABOUT ROADLOK SECURITY
RoadLoK Security, LLC is a New York based licensing and manufacturing company that specializes in the design and production of model-specific vehicle locking systems. The RoadLoK system is patented both domestically and internationally. The RoadLok is the only locking system that safely and effectively prevents roll away theft. The System is designed to be permanently mounted on a motorcycle, thereby eliminating the need for storing the lock while riding. The system's permanent mounting eliminates all momentum, making it virtually impossible to damage calipers and fenders; this is accomplished while also protecting the rider, should the rider forget to unlock the System before riding off.
Now in its 6th year of operations, RoadLoK Security continues to design and engineer systems for new motorcycle models with plans to expand into other powersport markets.
FOR MORE INFORMATION VISIT:
RoadLoK Security
http://www.roadlok.com
+1 (845) 567-1918
International: 0800-802057
Facebook: ROADLOK®
Two Wheel Centre
http://www.twowheel.co.uk
+44 01623 627600
###