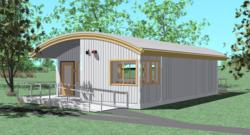 the first affordable Green Portable Classroom
(PRWEB) June 20, 2011
Green Apple Classrooms are the first Affordable Grid Neutral Portable Classrooms As an alternative to the standard "Brick and Mortar" classroom, Portables or relocatables are a popular, inexpensive solution. The Green Apple adds a new standard.by becoming one of the first relocatable classrooms to generate all it's required electricity through the PV film attached to it's roof. Through Net-Metering the Green Apple, under most conditions, will generate more electricity than it will require on an annual basis.
A Clean Energy Solution
An advanced HVAC unit, state-of-the-art lighting system, and increased insulation all reduce the unit's energy demands. To meet these lowered demands, we employ an array of amorphous silicon thin-film photovoltaic panels on the roof of the units. The result is a classroom which generates as much energy as it consumes. For California taxpayers, it means an annual energy savings of $22.3 million if the state eventually replaces a quarter of the current portable fleet with energy-efficient, solar-powered classrooms. And finally, for the planet it means an emissions savings of over 100,000 tons of carbon dioxide per year.
Optional Curved Roof
The fact that portable classrooms can be moved from one location to another presents a unique design challenge when dealing with solar panels. It is always best for solar panels located in the Northern Hemisphere to face true south in order to maximize solar output. However, due to the potential mobility of portables, we designed a curved roof that maximizes average solar output given the uncertainties inherent in portable classroom placement. Because thin-film panels are better at absorbing solar energy in diffuse light settings compared to traditional crystalline panels, our classrooms generate significant amounts of electricity no matter what orientation they are placed in. Alternatively, if a school district is confident that a portable will remain in the same location for the duration of its lifetime, custom solar panel configurations are possible.
Calif. Division of the State Architect
The Green Apple Classroom Designs for Models A, B, and C have been approved by the California Division of State Architect. Making it possible for the buildings to be sold to any Public School District in the State of California. The DSA provides design and construction oversight for K-12 schools and Community Colleges throughout the State of California. With the wide range of climate types California offers the most challenging of environments for Architect's and Builders. Although there is a growing need for "Green Portables" in the State there have been relatively few entries to the field. The process for DSA approval is a very detailed and time consuming effort which has limited the number of competitors . The Green Apple design is therefore poised to set the standard for future "Green" Portables.
Affordability
GREEN APPLES are the affordable "Green" Solution. Our Piggybacks have made it possible to purchase GREEN APPLES without the need to endure the time and expense of the Public Bidding Process. GREEN APPLES and all their additional upgraded features can be puchased through our marketing partners Class Leasing, Inc in Perris, CA.(951.943.1908) [email protected] Production is located in both southern California and Texas and are able to ship anywhere in the US.
###