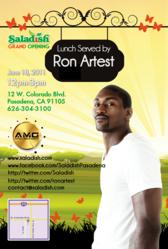 L.A. Lakers Forward Ron Artest will serve lunch to a hungry lunchtime crowd on June 18th
Pasadena, CA (PRWEB) June 15, 2011
L.A. Lakers Forward Ron Artest will serve lunch to a hungry lunchtime crowd on June 18th at the new Saladish location in Old Town Pasadena. Diners will enjoy made-to-order indoor grown fare suited to Southern California's health conscious appetites and will be personally served by Artest, well-known for his local community involvement and support. Saladish already boasts a location in Rancho Palos Verdes and its success has created demand for a second venue that will entice east side diners to sample their healthy fare.
Saladish has cornered a unique niche in L.A.'s heavily populated restaurant landscape by utilizing aeroponic technology to grow many of their healthy greens on site. Saladish has taken the concept of locally grown to a whole new level by literally growing their vegetation in a manner that makes an impact on their customers. Diners can see the produce as they enter the restaurant and can make the distinction that the healthy greens they're seeing will end up in their salad or wrap. Diners in the South Bay location have already made the Southwestern Chicken Wrap one of the most in-demand items on the menu.
Saladish is inviting the public to celebrate the grand opening of their Pasadena location on Saturday, June 18th from 12 pm – 3 pm at 12 W. Colorado, Pasadena. With L.A. Laker Artest on hand to give an assist in the dining room during the grand opening celebration, Saladish is sure to score points with local patrons.
###