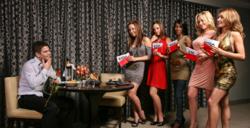 "Women love generous and giving men. That's because generosity is the material manifestation of love. In today's society, most females don't want to date cheap and rude male chauvinistic pigs."
Los Angeles, CA (PRWEB) June 17, 2011
WhatsYourPrice.com has just published its list of cities with the most generous and stingiest single men. Denver topped the list as the most giving city, while Cincinnati topped the list of the cheapest.
WhatsYourPrice.com is a patent pending Online Dating marketplace where first dates may be bought or sold. The website currently boasts over 100,000 active members. The list of the most generous and the most frugal cities was compiled based on over 50,000 first date transactions the website has matched up in the past 60 days.
TOP 10 MOST GENEROUS CITIES
1. Denver, CO
2. Seattle, WA
3. Dallas-Fort Worth, TX
4. Chicago, IL
5. Los Angeles, CA
6. Toronto, ON
7. San Francisco, CA
8. Philadelphia, PA
9. Washington, DC
10. Boston, MA
TOP 5 MOST UNGENEROUS CITIES
1. Cincinnati, OH
2. Atlanta, GA
3. Miami, FL
4. Las Vegas, NV
5. London, United Kingdom
Denver's single men have given an average of $221 to have a chance at love. Seattle came in second, followed by Dallas, Chicago, Los Angeles, Toronto, San Francisco, Philadelphia, Washington DC, and Boston.
The cities that make the top 10 list share a few things in common, namely, a healthy real estate market and a lower unemployment rate. Coming in at number eleven is New York City, one of the most expensive cities to live and work in. It barely missed the "Top 10 Most Generous Cities" list, with its single men paying an average of $145 for a chance at love.
Cincinnati's single men offer an average of $72 for a first date. The other top cities where you can date men who are chintzy? Atlanta, Miami, Las Vegas and London.
London, the city which brought us the infamous Mr. Scrooge, ranked as the 5th most un-giving city in the world, where single men offer an average of £60 for first dates. Given the current foreign exchange rates, that works out to about $98.
"Women love generous and giving men," says Brandon Wade, CEO and Founder of WhatsYourPrice.com. "That's because generosity is the material manifestation of love. While a woman can show her love, care and tenderness in many ways, men in general lack this skill."
So, if money and generosity are measures of love, what is a poor man to do to win hearts?
"Money is one way to show generosity," says Wade. "But a man who is poor in material wealth may be rich in other ways. The financially poor man will need to learn to show his generosity in other ways: by being generous with his time, giving undivided attention, having deep conversations, demonstrating greater understanding and having patience. Unfortunately, these are qualities that many men lack. In today's society, most females don't want to date cheap and rude male chauvinistic pigs."
For more information on where your city measures up on the list of most generous, please visit the Whats Your Price Blog or contact Jennifer Gwynn at press (at) whatsyourprice.com or (702) 241-0100.
The Methodology
To determine the most and least generous cities, we ranked urban areas by the average price single male members paid for a first date on WhatsYourPrice.com. Calculations: Members are weighted equally. To do so, the mean price each male member paid for first dates is calculated for each member. The average price for a metro area is determined as the average of the mean price paid by single male members who resides in that area. Inclusions: Only metro areas with at least 200 first dates and at least 30 single male members were included in the rankings.
About InfoStream Group
InfoStream Group is a social media company that operates a group of leading online dating brands, including: Seeking Arrangement – the largest website for those seeking mutually beneficial and Sugar Daddy arrangements; Seeking Millionaire – the leading Millionaire dating and matchmaking website for wealthy and attractive singles; Miss Travel – the first travel dating website; and WhatsYourPrice.com – a new and innovative online dating marketplace to buy or sell first dates for a chance at romance.
###