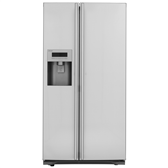 John Lewis is proud to be the official department store provider to the London 2012 Olympic and Paralympic Games.
(PRWEB) June 15, 2011
Department store, John Lewis, reports that sales of American fridge freezers are up a huge 68% over the last four months as customers invest in these style statements for the home that are built to last.
Vic Sinclair buyer for large electricals at John Lewis says, "We have seen extremely strong sales of premium appliances and in particular large American style fridge freezers. Customers are choosing to spend more on appliances that will stand the test of time in terms of design and functionality."
John Lewis offers a wide range of American style fridge freezers from LG, Sub-Zero, Bosch, Fisher & Paykel and John Lewis.
John Lewis JLAFFS2010 American Style Fridge Freezer - £1,799
The stylish, brushed steel JLAFFS2010 stores food and drink in the optimum condition and comes with a free three-year guarantee. Rated A+ for energy it has an ultra efficient compressor, which delivers maximum cooling, while making very little noise; perfect for open plan kitchens. A total No Frost system keeps the fridge hygienic, odour free and means no more defrosting. Powerful cold air circulation ensures the internal temperature remains consistent throughout and clever digital sensors monitor the fridge and freezer, reacting instantaneously. This, along with faster cooling helps restore the temperature when the doors are opened. The 361L fridge benefits from a dedicated section for dairy and two salad drawers with Moist Balance Crisper technology. These special lattice-type box covers maintain moisture at an optimum level by evaporating the moisture from stored food in the boxes and condensing it onto the lattice, so no more soggy salad. Unlike conventional American-style fridge freezers, the JLAFFS2010 icebox is located in the door instead of the freezer, giving the freezer 10% more space. The gasket of the appliance is also treated with an anti-bacterial agent, preventing mould growth, which could distort and stain the door seals.
John Lewis Customer Enquiries 08456 049 049 or johnlewis.com
Notes to Editors:
Prices and products are correct at the time of writing but are subject to change; call to check prices and availability.
For more information contact:
Jessica Groves
Sellers PR
t:01252 725659
e: jessica(at)sellerspr(dot)com
The John Lewis Partnership - The John Lewis Partnership operates 32 John Lewis shops across the UK (28 department stores and four John Lewis at home), johnlewis.com and 253 Waitrose supermarkets. The business has an annual turnover of nearly £8.2bn. It is the UK's largest example of worker co-ownership where all 76,500 staff are Partners in the business.
John Lewis - John Lewis, 'Britain's favourite retailer 2010'* and 'Multiple Department Store of the Year 2010' ** typically stocks more than 350,000 separate lines in its department stores. The website stocks over 150,000 products focused on the best of fashion, beauty, home and giftware and electrical items including online exclusives. johnlewis.com is consistently ranked one of the top online shopping destinations in the UK (johnlewis.com ). John Lewis Insurance offers a range of comprehensive insurance products - home, car, wedding and event, travel and pet insurance and life cover - delivering the usual values of expertise, trust and customer service expected from the John Lewis brand.
John Lewis is proud to be the official department store provider to the London 2012 Olympic and Paralympic Games.
John Lewis and London 2012 - As part of this partnership with LOCOG (The London Organising Committee of the Olympic and Paralympic Games) John Lewis operates official London 2012 shops within its Oxford Street branch and from September 2011, the new Stratford shop. John Lewis is helping to furnish lounge and reception areas at key Games-time venues as well as offering Partners (staff) the opportunity to support LOCOG in the operation and build-up to the Games. Further to the sponsorship with LOCOG, John Lewis Partnership has developed 'Partners in Sport' an initiative to put something back into the community through sport which includes sponsoring several London 2012 hopefuls as well as funding sports coaches.

Verdict consumer satisfaction index, January 2011
** The Drapers Awards for fashion retail, November 2010
You can follow John Lewis on the following social media channels:
johnlewis.com/twitter
johnlewis.com/facebook
johnlewis.com/youtube
###