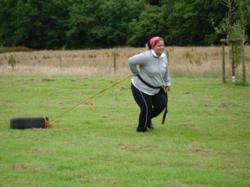 FitFarms the boot camp that is dedicated to you
London (PRWEB UK) 16 June 2011
Gillie Sutherland the old weight loss boot camp health manager has recently been promoted to FitFarms Course Director. Gillie has recently designed a new Christmas Maintenance programme.
The Christmas maintenance programme is designed to help women maintain their weight over the festive Christmas period. The new programme is built around the same strategy as the UK boot camp residential course. Gillie has called upon expert nutritiotal therapist Julia FitzGerald who will be designing the nutrion programme. The exercise programme will be developed by Charlotte Hartley who received a first class degree from Loughborough University the country's leading college for sport sports science. Charlotte has has played hockey for Great Britain so has a real understanding in what it physically takes to become a world class athlete.
The team will also be receiving help from world class French Chef Mikael Perret. Mikael has worked with the fitness boot camp since 2007 and has played a major force in designing healthy tasty menus that clients can enjoy day in and day out.
The nation as a whole put on an astonishing half a stone over the Christmas period. This is due to lack of exercise and over eating treat style foods. Here at the UK fitness boot camp we will be giving healthy options in all given Christmas situations. This will not just cover food but alcoholic and non alcoholic drinks.
FitFarms ultimately is a weight loss retreat and lifestyle retreat and are very serious about helping women and men over the UK and beyond. FitFarms has taken on clients from all the continents.
When signing up to the FitFarms boot camp you are not just signing up for a week you are signing up to a complete lifestyle change. The team will be supporting you on your journey the whole way.
# # #