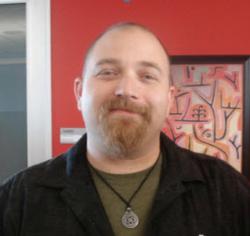 "To be recognized for something you have a passion about and really enjoy doing is unbelievably rewarding." – VectorLearning Instructional Developer Tobias Jedlund
Tampa (PRWEB) June 15, 2011
VectorLearning, comprised of premier eLearning providers RedVector and Care2Learn, delivers online continuing education courses for healthcare and AEC professionals. Recently one of the company's own online education professionals, Tobias Jedlund, was named Best eLearning Designer 2011 by Maestro eLearning—a customer service company specializing in the benefits of eLearning.
"I am both honored and humbled to receive this award," says Jedlund, an instructional developer with VectorLearning's Content department. "To be recognized for something you have a passion about and really enjoy doing is unbelievably rewarding, and I feel fortunate to work in an industry where I'm surrounded by so many talented and creative people who share that passion."
A 12-year veteran of multimedia development who is currently pursuing a degree in visual arts, Jedlund specializes in blending technical tools with fine art theory to enhance the eLearning experience. In his role as instructional developer, he is involved in writing, organizing and arranging course content, as well as developing supporting interactions, graphics, animation, audio and video elements.
eLearning is web-based learning that provides users with the flexibility and convenience of learning at their own pace outside the traditional classroom setting. Because of the significant costs and time restrictions linked to conventional teaching methods, more and more businesses today are taking advantage of the benefits of online learning. Through eLearning, companies can deliver relevant professional training and education in a user-friendly online format.
In a recent interview Jedlund spoke about his role in the eLearning industry: "Online media is continually evolving, and the education industry is no exception," he said. "Users want online courses that are highly engaging and visually appealing but still deliver the highest quality content to meet their training and education needs. Our goal at VectorLearning is to combine the very best in technology with expert-developed subject matter to enhance and improve the way today's professionals learn."
About VectorLearning
VectorLearning sets the standard for excellence in online continuing education and training for licensed and certified professionals in the engineering, architectural, construction (AEC) and post-acute healthcare industries. With an online library exceeding 1,500 courses authored by more than 200 subject matter experts and spanning all 50 states, VectorLearning serves more than 300,000 working professionals. The recipient of numerous community honors and industry awards, VectorLearning was founded in 1999 and is headquartered in Tampa, Florida. For further information call 1-866-546-1212 or visit http://www.VectorLearning.com.
###