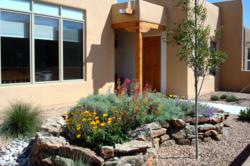 With the evolution of building science and the drop in the cost of solar electric panels, builders have proven that these superior homes can be built for around the same price as older, less efficient homes
Santa Fe, New Mexico (PRWEB) June 16, 2011
Natural Homes of Prudential Santa Fe Real Estate has, for the first time, brought together the knowledge and evolved technology to construct a comfortable home with a net annual utility bill of "0". At a price a working family can afford, these solar homes are designed to be healthy to live in and can be built almost anywhere and in any style.
Natural Homes has delivered LEED certified Zero Energy Homes to buyers for less than $339,000 with some homes garnering as much as $25,000 in State and Federal tax credits. LEED stands for "Leadership in Energy and Environmental Design" and is a Federal program offering up to $9.00 per square foot Federal tax credits plus solar tax credits. For some time the builder community claimed that these homes were too expensive to build, but with the evolution of building science and the drop in the cost of solar electric panels, builders within New Mexico and around the country have proven that these superior homes can be built for around the same price as older, less efficient homes. With the volatility of energy costs these homes provide residents savings from day one and energy security into the future.
According to the organization Architecture 2030, 49% of all energy used in America is used in buildings. As America faces energy insecurity and the effects of Climate Change it is becoming clear that our very survival may depend on making existing buildings more efficient and building new Zero Energy Homes. Kim Shanahan the Director of the Santa Fe Area Home Builders Association (SFAHBA) is acting to educate his members on how and why to build these more efficient buildings. He says, "We call on our members to rise to the occasion and achieve the efficiencies available today and to inform buyers that these homes are available today at around the same price as less efficient homes"
To provide this ground breaking information, SFAHBA and Natural Homes along with other sponsors will be offering free workshops for buyers and builders starting July 8th. These workshops will take place in a passive solar home designed and built by the director of Natural Homes, Alan Hoffman that is being upgraded to Zero Energy. The following workshops will cover the essentials of what the new techniques are, how they are rated and how new Zero Energy Homes can be delivered to the public at an effective cost right now. Information on how existing homes can be renovated to achieve Zero Energy and what tax benefits are available will be included.
For more information about Zero Energy Homes available in Santa Fe, New Mexico, go to http://www.newvillage.com/ or call Alan Hoffman at 505.316.0449
###