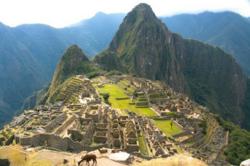 Mark W. of California said this about his recent trip: "…the trip was amazing. We had a great guide, Teddy, and perfect weather. Machu Picchu was definitely worth the trip and hike."
(PRWEB) June 14, 2011
The first step is planning early. Since the Peruvian government enforced a daily permit limit of only 500 (including tourists and porters), permits sell out months in advance. Therefore, Outdoor Travel Adventures recommends planning your trip approximately 6 months ahead of your desired travel dates…the earlier the better. As of early June 2011, permits are nearly sold out through Sept 2011.
Once the process begins, Outdoor Travel Adventures will assist with everything from flight planning to packing tips. Their featured Inca Trails itinerary, the Machu Picchu Pilgrimage, is a favorite amongst discerning clients. Mark W. of California said this about his recent trip: "…the trip was amazing. We had a great guide, Teddy, and perfect weather. Machu Picchu was definitely worth the trip and hike."
The Machu Picchu Pilgrimage is a 10-day itinerary featuring Lima, Cuzco, Sacred Valley, Inca Trail, and Machu Picchu. The 2011 trip price starts at $2295 per person (double occupancy) plus domestic Peru airfare of approx $350 per person. The trip includes accommodations, some meals, 8 days of guide service, and porters on the Trail. Trips are available any day on-request for a minimum of 2 people; max group size 12. The best weather is found April through September; although travel is available year round with the exception of February.
For more information on this or other adventure itineraries or additional Machu Picchu Tours call (619) 523-2137/ toll-free (800) 554-9059.
Outdoor Travel Adventures is a leading provider of adventure, nature, and luxury travel. We seek to match our customer's travel goals with an experience that is right for them.
###