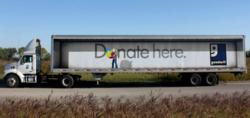 BradfordLawton isn't just our agency of record, they are a crucial member of our team.
San Antonio, TX (PRWEB) June 14, 2011
Goodwill Industries of San Antonio announces record high donor and sales growth in April and credits San Antonio-based advertising and branding partner BradfordLawton's award-winning "Donate" campaign for the growth.
The non-profit organization says a year-to-date donation increase of 10%, a 29% jump in its number of donors in April and its second highest revenue increase ever stems from BradfordLawton's brand campaign that demonstrates Goodwill Industries' core mission of helping people through the power of work. The campaign is the first comprehensive, fully-integrated brand strategy developed for this Goodwill Industries region and has won a national ADDY, as well as several regional and local awards.
"BradfordLawton isn't just our agency of record, they are a crucial member of our team," said Rebecca Helterbrand, Goodwill Industries of San Antonio Vice President of Marketing and Performance Excellence. "In fact, through their guidance we now serve as a leader for Goodwill Industries nationwide in brand strategy – and we have the results to prove it."
BradfordLawton helped reinvent Goodwill of San Antonio's brand position through television, interactive/social media, website development, video, print and collateral development, as well as outdoor and environmental/in-store marketing.
The campaign includes unique outdoor billboards, television commercials, truck wraps and targeted online advertisements that feature unconventional donation items to encourage viewers to donate household items outside of typical clothing donations. In addition, BradfordLawton created engaging PSA's that feature Goodwill employees and community members to further enforce Goodwill's position as an organization that helps people regain their independence. A Goodwill Industries first, BradfordLawton converted Goodwill's paper annual reports into an integrated, interactive online report that helped the non-profit cut costs and powerfully demonstrate its core message and branding.
"When you look at the thousands of hours we've put in with Goodwill and the tens of thousands of lives we've been able impact and improve through our combined efforts, the recurring element is strategy," said Tony Diamond, principal and president of BradfordLawton. "Goodwill Industries is an incredible organization that goes far beyond being a store and donation center—it directly helps people through education, training, jobs and work programs. By keeping that as the central focus of the brand strategy, we've been able to develop creative that very effectively elevates Goodwill's positioning throughout the market."
About BradfordLawton, LLC
San Antonio-based BradfordLawton is a creative advertising and branding partner that combines creative vision with strategic thinking. Leveraging the expertise of the company's founding partners, former CMO and strategist Tony Diamond and award-winning creative Bradford Lawton, the agency combines client perspective with agency passion to build true partnerships and evolve brands. Key clients have included Taco Cabana, Goodwill Industries, AstraZeneca (Sweden), The Kennedy Space Center, NASA and Freightliner Trucks. BradfordLawton has won numerous awards from the American Advertising Federation, The One Show, New York Art Directors Annual, HOW, Communication Arts, Graphis, Dallas Society of Visual Communications and more. For more information go to http://www.bradfordlawton.com.
About Goodwill Industries of San Antonio
Celebrating 65 years of community service, Goodwill is helping to change lives through the power of work. Each year, Goodwill provides employment services to nearly 50,000 San Antonio-area individuals who face employment barriers. In addition to operating 16 retail stores, more than 25 donation stations and 12 Job Help Centers/Good Career Centers in San Antonio, New Braunfels, Seguin, Laredo and surrounding areas, Goodwill handles almost 40 contracts for services, ranging from document management to grounds maintenance.
# # #