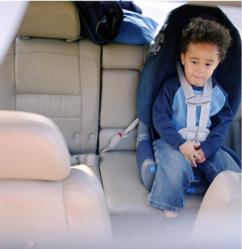 Some airlines allow child seats or strollers, if not bulky, to be gate checked after being used to reach boarding gate areas.
East Hartford, CT (PRWEB) June 15, 2011
The flying family vacation with young children is alive this summer as an alternative to high gas prices for tiring, lengthy car trips. Parents can find airfare sales extending through the high travel season in a slumbering economy. Family travel planners should visit online fare tracking sites, such as Airfarewatchdog and SmarterTravel, to find recurring summer airfare deals from competing carriers with sale names such as "Cheeps," "Click 'n Save" "The Sand in Your Suit Sale," and others offering limited-time booking deals for 2011 summer and fall travel. Registering for fare alerts allows you to receive automatic email notices for your desired destination as each fare sale becomes available.
Parents planning to rent a car can save money and hassles by bringing child car seats and non-bulky strollers on flights without paying baggage fees for child items on most airlines. Some carriers allow seats to be carried on for children to use during flights. Others allow items, if not bulky, to be gate checked after being used to reach boarding gate waiting areas. Parents also skip the cost of renting a child car seat from a rental car company in their destination at prices of about $10 to $15 per seat per day.
Travel Insured International®, the leading independently-owned travel insurance company, reminds families to protect their vacation with a comprehensive travel insurance plan, including "kids free" insurance on several types of plans, to cover family bags, contents and personal effects against loss or delay by common carrier. Baggage loss and baggage delay with varying maximum coverage are included in all four plans included under Travel Insured's Worldwide Trip Protector umbrella brand.
Baggage Delay and Baggage & Personal Effects Loss
Baggage Delay coverage, included in the Worldwide Trip Protector, Worldwide Trip Protector Gold, Trip Protector Lite or Trip Protector Lite Expanded plan, reimburses up to $200, $300 or $500, depending upon the plan selected, for the replacement of necessary personal effects when your bags are delayed a minimum 12 or 24 hours, depending upon the selected plan, after your arrival at the destination.
Baggage & Personal Effects coverage, included in each of the four plans, covers up to $750 with a $50 deductible on the Trip Protector Lite or Lite Expanded plans, up to $1,000 on the Worldwide Trip Protector plan, or up to $2,500 on the Worldwide Trip Protector Gold plan when bags or personal effects are lost or damaged by common carrier.
Tips: When your baggage is delayed or goes missing after arrival, remember to immediately file a report with your airline's baggage department and obtain full copies to submit to Travel Insured International®. The airline must verify all claims and certify the delay or misdirection of your bags. Additionally, be sure to have receipts at home, or copies of credit card statements, that will verify the purchase and price of lost items you will claim for coverage. You must be a ticketed passenger on the common carrier flight where the loss occurs to qualify to file a claim.
Travelers who bring their own sports equipment, such as golf clubs or skis, on a family vacation can claim expenses for rental of replacement equipment if their own is delayed or misdirected by common carrier. This benefit is exclusively available with the Sports Coverage upgrade, available for an additional premium on any of the four types of plans under the Worldwide Trip Protector family of plans.
Kids are Free
Flying the family on a summer vacation can still be affordable thanks to airfare sales in high season that compete favorably with the high price of gas for a drive vacation. Remember that families on the Worldwide Trip Protector comprehensive plan receive free coverage for all kids under 18 traveling on the same plan with a related adult paying for the same coverage. Families on the budget-priced Trip Protector Lite or Trip Protector Lite Expanded plan receive free coverage for one child under 18 for each related adult paying for coverage on the same plan and traveling with the child.
About Travel Insured International®
Travel Insured International®, based in E. Hartford, CT, was founded in 1994 by the foresight of insurance industry executive Peter Gehris when he acquired the travel protection division of the Travelers Insurance Company. Coverage is underwritten by Arch Insurance Company (a Missouri corporation, NAIC #11150) with executive offices located in Jersey City, NJ. Arch Insurance is rated A ("Excellent") for financial strength by the insurance rating service A.M. Best. Not all insurance products or coverage is available in all jurisdictions. Coverage is subject to actual policy language
Travel Insured International®
52-S Oakland Ave.
E. Hartford, CT 06128-0568
Contact: John Stone
Media Relations Manager
###