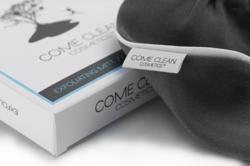 It's the single most effective beauty product
Toronto, Ontario (PRWEB) June 15, 2011
Come Clean Cosmetics™ reveals a full body exfoliating method that has been used in European baths for centuries. The Come Clean Exfoliating Mitt gently removes large strands of impurities and dead skin cells from the body; skin is renewed instantly using only water. The results are astounding and not comparable with any other exfoliating methods.
This simple body peel remarkably reduces ingrown hairs and allows for a longer lasting shave. It's an affordable at home spa treatment that instantly rejuvenates the skin and uncovers a healthy youthful glow. Exfoliating with the Come Clean Cosmetics™ mitt is the perfect way to get summer body ready and show off smooth and radiant skin.
Exfoliating the skin can have a positive overall impact on your whole body; this is no surprise considering the skin releases approximately a pound of waste each day. The Come Clean Exfoliating Mitt is a valuable addition to any cleansing program.
Philip Clements, a consultant for Ford Models, recommends the Come Clean Exfoliating Mitt for models and says "It's the single most effective beauty product".
While other products use harsh chemicals, the Come Clean Exfoliating Mitt is an endurable luxury product made from natural fibres. Finally, spending less money for more results. For more information on how to exfoliate, click here for instructional video.
About Come Clean Cosmetics™
Come Clean Cosmetics™ is a Toronto based company inspired by traditional beauty secrets from around the globe. They believe in the purest and most effective natural products that have been proven to nourish the body.
For more information visit comecleancosmetics.com or call 416-996-8045.
###