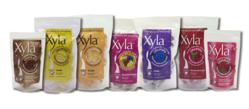 Finally, candy without the guilt!
Broomfield, CO (PRWEB) June 14, 2011
Xylitol USA is pleased to announce the launch of the Xyla line of North American Xylitol sweetened products. In honor of this launch, the company is adding a complimentary 1lb bag of it's North American Xylitol sweetener to the first 5,000 orders. This 1lb bag typically retails for $7.99 and is being added at no charge to the next 5,000 orders.
Xylitol USA manufactures a full line of North American Xylitol sweetened products in it's Colorado manufacturing facility. As the largest specialty manufacturer of Xylitol products, customers can enjoy the quality and savings associated with dealing directly with the manufacturer.
Xylitol is an all natural sugarless sweetener that can be derived from Corn or from Hardwood Trees such as Birch. Xylitol USA is one of the few companies that uses only North American Hardwood to derive all of its Xylitol.
Xylitol has 40% fewer calories than sugar, 75% fewer Carbohydrates, and is completely safe for diabetics. With it's 1 to 1 sweetness to sugar, Xylitol is the perfect replacement for sugar in recipes, baking, or even your coffee and tea. Xylitol is also known for its ability to help prevent cavities. With over 70 Xylitol sweetened products to choose from, Xylitol USA offers the largest selection to health conscious consumers.
Xylitol is truly the "sweet spot" between sugar and artificial sweeteners such as Aspartame and others. All natural Xylitol allows health conscious consumers to live a healthy, sugar free diet, without exposing themselves to the possible concerns that artificial sweeteners present.
The Company expects to launch it's new website in late June, 2011 to formally roll out the complete Xyla line of products. This 5,000 bag Xylitol giveaway commenced July 14th and is valid while supplies last. For more information please visit our website, or contact us at any time.
###