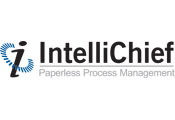 We are excited to add Brian to the growing IntelliChief team, particularly as we expand our investment in our marketing organization
Mansfield, MA (PRWEB) June 14, 2011
IntelliChief LLC™, the leading provider of Paperless Process Management™ (PPM) solutions for the IBM I (System i, iSeries, AS/400), today announced the appointment of Brian D. Smith as Director of Marketing. Smith joins IntelliChief with more than 15 years of marketing experience in the software and technology space with a proven ability to develop successful marketing teams and initiatives.
In his new role, Smith will be responsible for branding, product marketing, corporate communications, and demand generation for IntelliChief. He brings with him substantial expertise in online marketing, which he will leverage to help drive adoption of IntelliChief solutions worldwide.
"We are excited to add Brian to the growing IntelliChief team, particularly as we expand our investment in our marketing organization," said Michael R. Rooney, vp sales and marketing, IntelliChief LLC. "Brian's wealth of experience has already made him a key addition to the IntelliChief family. We view his appointment as a sign of our commitment to being the leading company in the document management and imaging industry. Our new innovations and the increasing demand from our customers led us to look for an addition to our team who will fit in with our philosophy of innovation, and it is very fortunate that we were able to find someone of Brian's caliber to fulfill this role."
Prior to joining IntelliChief, Smith served as Director of Marketing at Infinata (a Financial Times Group Company), where he was responsible for driving sales opportunity growth. Prior to that, Smith was Ecommerce Marketing Programs Manager at Parametric Technology Company (PTC) and held various Internet Marketing positions at Ipswitch, Inc.
Throughout his career, Smith has achieved success through direct response marketing and leveraging the Internet to achieve sales growth. Brian has a Bachelors degree from Ithaca College.
About IntelliChief
IntelliChief, is the leading provider of Paperless Process Management (PPM) solutions for the IBM i (System i, iSeries, AS/400) Enterprise. With decades of expertise in the market and seamless integration with leading ERP software vendors, IntelliChief takes companies of all sizes paperless with a typical ROI of less than 8 months. Users can create, capture, manage, archive, retrieve, and distribute mission-critical documents directly from their familiar ERP screens, eliminating the need for filing cabinets, storage facilities, fax machines, copiers, and paper files.
###