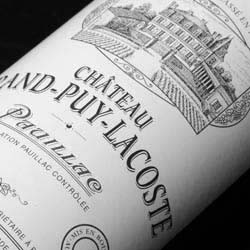 These wines express a lot of charm still with the strong character of Pauillac.
New York, NY (PRWEB) June 15, 2011
Bordeaux classified growth, Grand-Puy-Lacoste, announced the prices of its 2010 wines today. The Pauillac Fifth Growth property has received top scores from Decanter Magazine (18), James Suckling (95-96), and Wine Advocate critic, Neal Martin (97-99).
"Mainly Cabernet Sauvignon (83%) with Merlot (17%), this vintage was produced at 42 hectoliters per hectare and is aging in 75% new oak barrels," said Roger Bohmrich, Master of Wine and General Manager of Manhattan-based fine wine merchant Millesima USA LLC, who was in Bordeaux during En Primeur week in early April 2011 to taste the new vintage. "The wine shows underlying flesh and power with a firm but not aggressive tannic frame. The 2010 will join other highly successful vintages from this chateau."
Grand-Puy-Lacoste is known for its powerful, full-bodied taste and long aging potential.
"These wines have a tremendous maturing ability and tremendously develop after years spent in their bottles," says François-Xavier Borie, owner of the estate. "These wines express a lot of charm still with the strong character of Pauillac: powerful wines without lacking any finesse."
Interested wine consumers can purchase the 2010 Grand-Puy-Lacoste wines through the Millesima USA website: http://www.millesima-usa.com/futures/2010-futures/producer-chateau-grand-puy-lacoste.html
Mr. Bohmrich's full 2010 Bordeaux Futures video coverage of En Primeur week including visits to prestigious Bordeaux chateaux and wine recommendations by appellation can be viewed at http://www.millesima-usa.com/media-events/wine-videos.html.
About Millesima USA
Manhattan fine wine merchant Millesima USA specializes in classified growth Bordeaux wines and French wine futures. Unlike most wine merchants, we purchase our wine directly from the producing estates. This means your wine only changes hands 3 times: from the estate to us and from us to you. We guarantee the highest quality standards for wine storage, shipment, and customer service so buy with confidence.
Millesima USA LLC is located in Manhattan's Upper East Side at 1355 2nd Ave, New York, NY 10021. Visit our website at: http://www.millesima-usa.com/
# # #