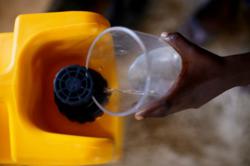 Water Water Everywhere but Not a Drop to Drink
Chesapeake, VA (PRWEB) June 16, 2011
The Zombies are coming according to Jarrod Smith of Chesapeake, Virginia and he makes no bones about it. Jarrod has been ready for the Zombies for some time and he is quick to warn those that haven't prepared, "I will not come to your rescue when the Zombies are at your door. You need to prepare your family now."
Does Jarrod truly believe that the living dead, in search of human flesh, will soon be breaking down doors in search of their next meal? Well, not quite. See, the term "Zombie Apocalypse" has become a common euphemism for any number of cataclysmic events that many believe will befall the US, and the world, soon. No matter the type or context of the catastrophe the common realization is that many will be left to fend for themselves with little expectation of timely government support or intervention.
Whether you believe the Zombies are coming or not, you must admit that the rate and intensity of natural disasters is on the rise. With the 2011 Hurricane season underway and predicted to be similar in intensity to the 2005 season that spawned Katrina, the CDC and FEMA recommend that everyone in the US be prepared to shelter in place with no outside assistance for a minimum of 72 hours. As declared by the CDC, "If you are prepared for a Zombie Apocalypse, you're prepared for anything." No matter what expert you subscribe to they all agree that survival is dependent upon the availability of three primary elements; water, food and shelter, and the one that can be most elusive in times of crisis is also the one that the human body can survive the least amount of time without, and that's water. Are you prepared?
You can be. Lifesaver Technologies has developed a revolutionary water filtration system specifically engineered to support the emergency preparedness and crisis response markets. At the core, the LIFESAVER® utilizes hydrophilic hollow fiber tubes with a .015 micron absolute pore size as the microbiological ultra filter, eliminating all microbiological contaminates from any water source http://www.lifesaverusa.com/learn_faqs.htm. Then, the microbe free water is streamed through a specially-manufactured Activated Carbon Block (ACB) to ensure clean taste, eliminate odor, and reduce endocrine disrupting compounds such as heavy metals, chemical, or medical residues. The result is clean sterile water instantly. The LIFESAVER® purifies water solely through filtration, so there is no need for chemical additives such as chlorine or iodine; just FILL-PUMP-DRINK.
The award winning LIFESAVER® bottle is the world's first all-in-one ultra filtration water bottle. Its unique patented design and revolutionary approach to water filtration has made way for a paradigm shift in how people prepare for emergencies. One LIFESAVER® Bottle can filter up to 6000 liters of water per filter and one LIFESAVER® Jerrycan can filter up to 20,000 liters before requiring a filter change. Gone are the days of filling old milk jugs with tap water or buying cases of bottled water and storing them in the garage until they expire. The reality is that even during a crisis there is plenty of water available in places you normally wouldn't consider such as sewage fouled water lines, chlorinated swimming pools and stagnant retention ponds. Only problem is that it simply isn't safe to drink. The LIFESAVER® Bottle makes it safe. Also, if you are forced to flee your shelter you don't have to worry about carrying water with you, just the means by which to clean it. Get a LIFESAVER® and be sure that you and your family are prepared. Who knows, maybe the Zombies are coming. To learn more and watch videos of Lifesaver product in action, go to http://www.lifesaverusa.com or contact Bud Fultz @ bud.fultz(at)lifesaverusa(dot)com or (757) 409-7007.
###