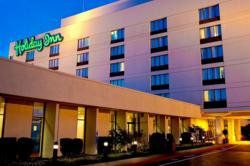 "We are thrilled to have Knutson heading up this important hotel asset."
- Jim Darter
Renton, WA (PRWEB) June 16, 2011
Holiday Inn hotel in Renton, WA has announced the appointment of Brad Knutson, as General Manager to lead this full service property in Renton, a suburb of Seattle. Knutson, a seasoned hotel professional with 18 years of experience, will focus on-property management newly renovated Holiday Inn hotel.
"We are thrilled to have Knutson heading up this important hotel asset," said Jim Darter, Senior Vice President of Full Service Hotels for Sage Hospitality, which manages the Holiday Inn Seattle-Renton. "Knutson has been with Sage for several years, we know his infectious passion for hospitality, and his high level of service will continue the success this hotel is experiencing."
Brad Knutson, General Manager
Knutson joins the Holiday Inn Seattle-Renton from the Hawthorn Suites by Wyndam in Kent WA, where he was General Manager since 2009. Knutson had his first General Manager position in 1999 and has a proven track record of driving guest service scores in all aspects of hotel operations. Knutson got his start in hospitality as a Director of Front Office Services at the Jantzen Beach Red Lion/ Doubletree hotel in Portland, OR. An active and involved professional, he has served on the board of the Tukwila WA Tax Advisory Committee, as the President of Wenatchee Valley Hotel and Motel Association and as a board member of the Washington State Hotel & Lodging Association.
A native of a small town in southwestern Iowa, Knutson credits his hospitality success to his leadership style which is a blend of teamwork and accountability to the vision. Knutson earned an undergraduate degree from University of Nebraska. He currently resides in Maple Valley, where he enjoys spending time with his family and the infinite number of activities that come with three sports enthused children.
The Holiday Inn Hotel Seattle-Renton
A beloved, local original since 1968 and renovated in December 2009, the Holiday Inn Seattle-Renton Hotel continues to surpass the needs of its guests with evolving accommodations including its 224 guest room and suites, warm and attentive service, and proximity to the best greater Seattle has to offer. Hotel guest parking is always free, or enjoy complimentary airport shuttle service. The on-site restaurant, Yankee Grill is a popular local dining spot and watering hole. For more information, visit http://www.rentonseattlehotels.com or find us on Facebook, http://www.facebook.com/HolidayInnRenton and Twitter, http://www.twitter.com/RentonHoliday.
About Sage Hospitality
Founded in 1984, Sage Hospitality has strategically grown into one of the largest privately held hotel management and development companies in the nation operating a variety of large, full-service hotels and extended-stay and select-service properties. Sage Hospitality's comprehensive management portfolio includes major international brands for Marriott, Starwood, Hilton and IHG as well as the independent boutique hotels. Sage Hospitality has further differentiated with the creation of the Sage Restaurant Group, which has created and is managing 10 unique restaurant concepts including the acclaimed Mercat a la Planxa in Chicago. For more information, visit http://www.sagehospitality.com.
# # #