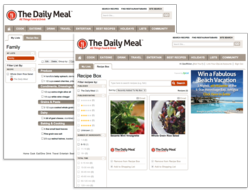 We're excited to team up with one of the fastest growing food sites on the web today to offer a seamless experience, enabling their readers to engage and act on recipes they share online.
Sterling, VA (PRWEB) June 16, 2011
ZipList, Inc., the market-leader in online and mobile grocery list and recipe box management, today announced a new partnership with The Daily Meal, one of the fastest growing websites for cooks, food lovers and discerning diners.
Starting today, users can easily save recipes to a universal recipe box and add ingredients to their shopping lists. They can also add any other grocery items they need for the week to their shopping lists, which can be accessed at TheDailyMeal.com, ZipList.com, on any other ZipList-powered websites or mobile apps, and on free ZipList Android and iPhone apps.
"We're excited to team up with one of the fastest growing food sites on the web today to offer a seamless experience, enabling their readers to engage and act on recipes they share online," said Geoff Allen, Founder and CEO, ZipList, Inc. "The Daily Meal is a fantastic place for users to get their food fix and we are excited to be partners."
"The Daily Meal boasts the best recipes on the web, and we really wanted an easy way for our users to be able to add the ingredients directly to their shopping lists right from our pages," said Jim Spanfeller, CEO, The Daily Meal. "The great thing about partnering with ZipList is that users have one automated, easy-to-use shopping list no matter where they are."
Earlier this month, ZipList introduced a new platform, enabling food publishers and bloggers of all sizes to deploy a fully-brandable recipe box, recipe search and grocery shopping list solution on their websites. The solution is free and allows any food website to offer a best-in-class, full-featured solution, while maintaining their own personal brands.
Helping Partners Connect with Consumers
ZipList powers more recipe box and shopping list features on online and mobile lifestyle sites and apps than any other provider. Consumer packaged good manufacturers (CPGs), media publishers, grocery retailers and mobile developers can directly embed ZipList functionality into their web and mobile products, enabling consumers access to their single, personal grocery lists or recipe boxes while staying within a fully branded experience. Integrated mobile capabilities allow partners to offer a seamless online and offline experience, even while consumers are in the store. Interested partners can contact ZipList at partners(at)ziplist(dot)com.
About ZipList, Inc.
ZipList is a market-leading online and mobile shopping list and recipe management service that enables shoppers to create and share grocery lists with family members. Users can arrange their lists by aisle or store, and can save recipes to a central recipe box. ZipList has partner tools, fully-branded white label experiences and SDKs available to enable media and lifestyle properties to incorporate shopping list and recipe box features into their own sites and mobile apps. ZipList features can be found on AOL's KitchenDaily.com, MarthaStewart.com, Martha's Everyday Food iPhone app and various food blogs and websites. ZipList is on the web at http://www.ZipList.com.
Follow ZipList on Twitter at http://www.twitter.com/ZipList or become a Facebook Fan at http://www.facebook.com/ZipList. ZipList is also available as a free mobile app for iPhone and Android users. For more on these mobile apps, visit http://www.ZipList.com/apps.
About The Daily Meal
Officially launched in January 2011, The Daily Meal attracts more than 1,000,000 people each month who come to get the scoop on the latest food trends, popular recipes, restaurants, food-oriented travel and more. The mission of The Daily Meal is to use cooking and eating together to unite and connect people with the outside world. Visit The Daily Meal at http://www.thedailymeal.com.
# # #