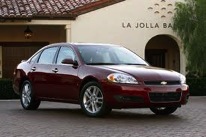 Healdsburg, CA (PRWEB) June 16, 2011
The sales professionals at McConnell Chevy Jeep Dodge - the leading Chevy dealership in Healdsburg, CA - know that the Impala is a great car, but they are very excited that police are going to be able to benefit from the better fuel economy while using the car to catch bad guys and keep the streets safe.
A new 3.6L V-6 engine and a six-speed automatic transmission achieves 302 hp and an estimated fuel economy of 17 mpg city and 27 mpg highway – a 3 mpg advantage over previous Impala models and 28 percent better than the Ford Crown Victoria. The 2012 Impala can accelerate from 0-60 mph in 6.6 seconds, based on GM engineering tests.
"Because our police customers need to conserve their budgets, we designed the 2012 Chevrolet Impala Police to help reduce fuel costs while standing up to the toughest environments and most demanding situations," said Dana Hammer, police vehicle manager for GM Fleet and Commercial Operations.
In response to strong demand from police customers, Goodyear Eagle RS-A all-season tires, which have a W speed rating, enable speed of up to 140 mph if required. They are standard on the 2012 Impala Police. Consumers have many other great options when it comes to tires and many other parts of the new Impala.
Retail customers who purchase the 2012 Impala, which goes on sale this month, also will get the additional horsepower and fuel economy. The 2012 Impala is the first Chevrolet Impala Police edition to feature StabiliTrak, GM's electronic stability control technology. Additionally, Impala's steering and suspension systems are new for 2012. They help to reduce body roll and improve handling.
"The enhancements to the 2012 Impala's powertrain, steering and suspension produce a new vehicle that has improved performance, handling and safety features for police and general consumers," said Darren Post, vehicle line director for Impala. "And they'll see a savings at the fuel pump." This is great news for many police departments who are feeling budget crunches.
Consumers who are interested in the new 2012 Impala are encouraged to stop by McConnell Chevy Jeep Dodge - the premiere Chevrolet dealership in Healdsburg, California and surrounding areas. They also offer the 2011 Chevy Impala for sale, as well as many other new and used makes and models.
###