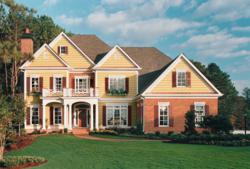 Through our Living Spaces Idea Book, homeowners will have a starting point that will inspire the exterior home makeover they have always dreamed of
Valley Forge, PA (PRWEB) June 15, 2011
Homeowners looking to improve the look and feel of their home's exterior and outdoor living spaces will find inspiration in the new Living Spaces™ Idea Book from CertainTeed Corporation. The 52-page book offers homeowners a wide array of ideas and products that are sure to jump-start creative home exterior design.
Offering ideas and examples for a home's exterior as well as expansive porches, versatile decks, open-air rooms and more, the Living Spaces Idea Book equips homeowners with countless tips for utilizing different colors, textures and products to create a unique expression. The book also features examples of the finest design combinations that show how CertainTeed's long-lasting, low-maintenance products and accessories work together for superior curb appeal.
"Through our Living Spaces Idea Book, homeowners will have a starting point that will inspire the exterior home makeover they have always dreamed of," says Phyllis Vail, director of marketing for CertainTeed's Siding Products Group. "By providing the industry's broadest selection of siding, exterior trim, fence, railing and deck products, CertainTeed offers seemingly endless design possibilities."
Additionally, the Living Spaces Idea Book points customers back to CertainTeed's tried and true ColorView™ online tool where they can visualize their favorite color combinations and styles on a wide selection of pre-mapped home styles or an uploaded photo of their own home. With the ColorView tool, homeowners have the ability to see the outcome of their ideal exterior updates, ensuring flawless results.
CertainTeed offers a comprehensive line of low-maintenance, high-quality and sustainable exterior building products including siding, trim and accessories, decking, railing and fence products. Popular product lines include Weatherboards™ Fiber Cement Siding, EverNew® Vinyl Decking and Cedar Impressions® Polymer Siding. For more information, call (800) 233-8990 or visit certainteed.com.
About CertainTeed
Through the responsible development of innovative and sustainable building products, CertainTeed, headquartered in Valley Forge, Pa., has helped shape the building products industry for more than 100 years. Founded in 1904 as General Roofing Manufacturing Company, the firm's slogan "Quality Made Certain, Satisfaction Guaranteed," quickly inspired the name CertainTeed. Today, CertainTeed® is North America's leading brand of exterior and interior building products, including roofing, siding, fence, decking, railing, trim, foundations, pipe, insulation, gypsum, ceilings and access covers.
A subsidiary of Saint-Gobain, the world's largest building products company, CertainTeed and its affiliates have more than 6,000 employees and more than 65 manufacturing facilities throughout the United States and Canada. Recognized as a 2009 and 2010 ENERGY STAR Partner of the Year by the U.S. Environmental Protection Agency, CertainTeed earned the 2011 ENERGY STAR Sustained Excellence Award, the highest level of recognition for outstanding contributions to protecting the environment through energy efficiency. The group had total sales of approximately $3 billion in 2010. http://www.certainteed.com
###