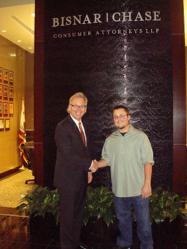 An estimated 20 percent of 1,517,000 injury crashes were reported to have involved distracted driving in 2009.
Newport Beach, CA (PRWEB) June 15, 2011
Driving Safe vs. Distracted Driving
Many of today's drivers are less aware of the road and more preoccupied by texting, talking on cell phones, eating, drinking, changing the radio station, using a navigation system, grooming or talking to passengers.
With today's technology and peoples' hustle-and-bustle lifestyle, more drivers are now using their commute time in dangerous ways. Even though every driver is taught the safeties of the road during drivers' education, many seem to have lost sight of the importance of driving safe.
According to distraction.gov, "An estimated 20 percent of 1,517,000 injury crashes were reported to have involved distracted driving in 2009."
American Lawyer Academy Seeks to Put an End to Distracted Driving
The ALA along with regional contest sponsors find the number of distracted driving collisions and deaths outrageous and have made it their mission to raise drivers' awareness and get everyone driving safe. By encouraging students to create videos, they can expose more people to the dangers of distracted driving while reminding people of the importance of driving safe.
By exposing the public to videos created for the contest, viewers see the tragedies that can occur as a result of distracted driving. The videos open viewers' eyes and minds to the truths of distracted driving and aim to make drivers more conscious and focused on the road while driving.
National Contestants Awarded for Their Efforts
The results came in last week and the winner of the first place prize went to the Northwest Region contestant, Gabrielle Lewis, for her video, "Pictures of a Broken Life," and the second place went to Mike Rafalik from the Western Region contest for his heartfelt video, "Life Can Change in an Instant."
Local Western Region Winner Comes in Second
Local Western Region Contest Sponsors and personal injury attorneys, Bisnar | Chase, are thrilled their very own regional contest winner, Mike Rafalik, received second place for the national contest.
Today, Mike Rafalik, was personally congratulated by the firm's partner and distracted driving awareness advocate, Brian Chase. The entire Bisnar | Chase staff is ecstatic about Mike's win and feels his video sheds light on an important issue.
Mike said, "I am really excited to have the opportunity to be a part of such a great cause," and, "Making this video was fun and educational for my peers and me."
The firm hopes the contest will continue to be successful and encourages students to enter next year for a chance to win the 2012 scholarships. To find out more about the contest and the American Lawyer Academy visit the ALA website at americanlawyeracademy.com.
About BISNAR | CHASE
BISNAR | CHASE is a California personal injury law firm that represents people who have been very seriously injured or lost a family member due to an accident, defective product or negligence. The law firm has recovered hundreds of millions of dollars for its over 6,000 clients since 1978. See http://www.bestattorney.com for more.
###