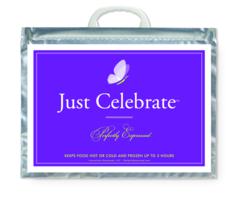 "Our Perfectly Expressed gift bags make giving the gift of food easy and beautiful."

Jody Shampton-Moore, CEO, Innovations Expressed, LLC
Sparta, NJ (PRWEB) June 15, 2011
There's always a reason to celebrate with the gift of food especially with the new "Just Celebrate" Perfectly Expressed® hot/cold gift bag from Innovations Expressed. The "Just Celebrate" hot/cold gift bag is perfect for sharing a celebratory hot meal, chilled wine, or cold treat with friends or family. The gift bags are also great for giving or sharing special holiday treats as hostess, teacher, or friendship gifts.
With the addition of the "Just Celebrate" hot/cold gift bag, Innovations Expressed now offers six stunning designs in their Perfectly Expressed product line, including Just for You, Just for Me, Just Chill, Just Baked, Just Desserts, and the all new Just Celebrate. The hot/cold gift bags are printed with safe, non-toxic, water-based inks on thermal bags that is reusable, 100% recyclable, washable, lead free and FDA approved.
The gift bags are positioned to appeal to specialty food retailers interested in providing customers with a vessel for sharing and delivering hot or cold foods and beverages as a gift to family and friends. The thermal gift bags retain optimum food temperatures for up to 3 hours and are perfect for:

Delivering gourmet ice cream, popsicles or other frozen treats
In-store prepared or homemade meals, soups or fresh fish
Fresh baked goods
Chilled wine, cheese or prime cuts of meat
"Everyone loves to receive specialty food, baked goods or spirits anytime time of the year, but especially during the holidays," said Jody Shampton-Moore, CEO, Innovations Expressed. "Our Perfectly Expressed gift bags make giving the gift of food easy and beautiful. Gift givers simply select from in-store offerings, place them in a Perfectly Expressed gift bag, and present their gift knowing that it will be delivered at its optimum temperature. Recipients can use the gift bags again and again, so they are a constant reminder of the gift-giver's thoughtfulness."
Given that the essence of the Perfectly Expressed gift bag line is to celebrate the joy of giving and sharing, Innovations Expressed has co-branded with the Audrey Hepburn Children's Fund, to whom a portion of the proceeds will benefit. The legendary, Academy-award winning star and humanitarian, Audrey Hepburn and her fund, are prominently featured on the product's freestanding display and complimentary gift card that can be attached to every Perfectly Expressed gift bag.
Orders for the Perfectly Expressed – The Original Hot/Cold Gift Bags can be placed by calling Innovations Expressed at 201.452.0557 or by emailing the company at order(at)perfectlyexpressed(dot)com. To view the complete lineup of gift bags and the freestanding display go to http://www.perfectlyexpressed.com.
About Innovations Expressed, LLC
Perfectly Expressed ® - The Original Hot/Cold Gift Bags™, is a product of Innovations Expressed, LLC. The product line is the brainchild of philanthropic entrepreneur, Jody Shampton-Moore, and was developed out of her desire to create a product that would allow families and friends to connect, and share a meal, treat or a moment as an expression of their kindness and gratitude. The company is headquartered in Sparta, New Jersey and can be found online at http://www.perfectlyexpressed.com.
About Audrey Hepburn Children's Fund
The Audrey Hepburn Children's Fund is dedicated to helping children in need around the world, and was created by Audrey Hepburn's children Sean Ferrer and Luca Dotti, and long time companion Robert Wolders, in order to honor her memory and continue the humanitarian work that she began on behalf of UNICEF in the last five years of her life.
###