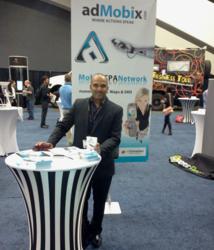 The number of new android apps being developed is growing at an alarming rate, and in order to get users to these apps, developers are forced to offer a free trial version. Our job is to help developers create ways to monetize their apps
Christiana, DE (PRWEB) June 16, 2011
adMobix announces a new SDK at AppNation and gives App developers a way to monetize their products.
It's true there is an app for nearly everything a person could possibly need and a few more that they don't but whether an app helps you to find cheaper gas or sends out the latest gossip, apps have found their place in the world of android devices. For app developers the big question still remains: How to make money off their apps?
Enter adMobix who made a big splash at this years' AppNation in San Francisco when they released their mobile affiliate marketing platform and their Software Development Kit for android devices. This SDK allows ads to be integrated easily into an app, and has many placement options such as showing an ad between levels, before a page loads or placing an ad anywhere on the page. This gives the developer the choice to monetize their product without detracting from the user experience.
"The number of new android apps being developed is growing at an alarming rate, and in order to get users to these apps, developers are forced to offer a free trial version. Our job is to help developers create ways to monetize their apps through unique, non intrusive methods of advertising", says Neil Raj, director at AdMobix.
For advertisers, tangible results are an important and rare commodity in marketing and adMobix proves it can be done with its Pay Per install option. This option was extremely well received by Advertisers attending AppNation as it lets developers and advertisers gain additional users while only paying when their product is installed on the customers device instead of paying per view or click. In addition to that, AdMobix also offers direct marketing advertisers the option to advertise on mobile devices on a Pay Per Call basis, as well as a Pay Per Lead basis.
The intelligent design of adMobix's SDK has also gained support from developers. Not only is it easy to integrate and manage from the back end, it also maximizes the advertising space with a multiple-ads rotation widget that changes on any interval the designer chooses. Despite its many features, this SDK maintains a small bite size insuring it operates smoothly on all android devices.
adMobix is proving to be a major player in the mobile industry, taking pride in its role and bridging the gap between mobile developers and advertisers.
About adMobix
adMobix.com http://www.adMobix.com, a division of AdCommunal.comhttp://www.adCommunal.com is a performance-based ad agency where advertisers do not pay for impressions or clicks, but only pay for leads. Using proprietary technology, advanced tracking, and seasoned experience, adMobix produces the maximum ROI for advertisers.
adMobix. hosts one of the most progressive affiliate programs in the mobile marketing landscape, providing some of the greatest return on investment for advertisers and highest payout for publishers.
adMobix Director Neil Raj is available for interviews on a range of topics related to online advertising, including what to consider before launching an online ad campaign, how to maximize your online advertising investment, pitfalls to avoid, and tips for choosing the best agency and network for your ad campaign. For more information and to schedule interviews please contact Neil Raj at 302 476 2721 or neil.raj(at)adcommunal.com
###