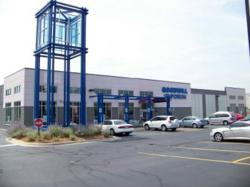 Lansing, MI (PRWEB) June 29, 2011
The orange cones are still keeping people from shopping along M43 (West Saginaw Highway) in front of the Goodwill Industries retail store. It's an all to familiar site causing backups and detours. MDOT's road construction projects across Mid-Michigan are behind schedule because of the wet spring weather. Look for the detour signs that will direct you to the rear entrance of the store.
Goodwill's Emporium on West Saginaw has many new and slightly used items for sale just like the big box stores. Are you looking for Coach, Gucci, Fendi, Prada, Versace or Dior? Many of these fine designer clothes, shoes, handbags and accessories have been found in our upscale stores. Do you like the spirit of the hunt? Many of your friends have found out how to have the best and not pay a fortune for them. It makes no sense whatsoever, that people to this day are still paying $150.00 for a pair of shoes or $900.00 for a designer handbag, when a visit to the Goodwill store may have the very same item. If you have never visited a Goodwill retail store, now is the time make that visit. Goodwill appreciates your patronage.
Please don't forget the mission that your purchases at our Goodwill Store allows us to accomplish.
"To help individuals with barriers to employment experience the power of work by providing training, support services and career opportunities."
###