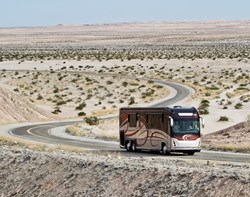 [A] Newell coach now delivers a superlative ride, stable handling, and driving ease that other coaches ... simply can't match.
Miami,OK (PRWEB) June 15, 2011
Newell Coach Corporation just announced that its new StabilRide™ active-suspension system is available on Newell motorcoaches to be delivered beginning January 1, 2012.
StabilRide dramatically improves coach handling, stability, and ride quality to levels previously unattainable in a vehicle the size and weight of a Newell.
"With its combination of StabilRide and Newell's standard, EasiSteer™ enhanced power steering, a Newell coach now delivers a superlative ride, stable handling, and driving ease that other coaches of its type simply can't match," said Newell President and CEO, Karl Blade.
What Is StabilRide?
StabilRide is a state-of-the-art, computer-controlled active-suspension system that automatically adjusts the suspension firmness or softness at each of the six wheel positions every ten milliseconds.
When a soft suspension setting is required to absorb a road irregularity, the selected suspension damper or dampers adjust accordingly. When a firm setting is needed to control excessive vehicle movement, such as immediately following a bump or to keep the coach level when entering a turn or executing a quick lane change, the suspension adjusts to optimal firm settings.
The adjustments all happen automatically and almost instantaneously. And they are unnoticeable, except that the coach rides more comfortably, has much less lean in corners, and "porpoising" action following dips in the road is eliminated. Excessive body movements are also eliminated.
Developing StabilRide
Newell developed StabilRide in partnership with ZF, a world-leading motor-vehicle component engineering and manufacturing company. Active suspension has been introduced on selected premium and high-performance passenger cars over the last two decades and has become increasingly popular on these vehicles. Brands with active suspension as standard equipment include specific premium and high-performance models offered by BMW, Mercedes-Benz, Cadillac, Audi, and Bentley. Most of these systems feature ZF components. ZF is now offering active-suspension systems for large trucks and motorcoaches. However, Newell is the only motorcoach manufactured in North American to feature an active- suspension system.
Putting StabilRide to the Test
After months of development and preliminary testing by ZF engineers and professional test drivers, Newell and ZF conducted final testing of the Newell StabilRide system at ZF's facility in Northville, Michigan, in late April of 2011.
Much of the testing was conducted on challenging, two-lane rural highways that have significant dips and side-to-side unevenness. With the conventional passive suspension installed on the test coach, maintaining a speed of 40 M.P.H. was uncomfortable, requiring two hands on the steering wheel and constant driver corrections.
After StabilRide was installed on the vehicle, the same roads could be driven comfortably and easily at 50 M.P.H. with one hand on the wheel. Although driving one handed is not recommended, this experience confirmed that StabilRide results in a ride and handling that are far superior to that of a conventional, passive-suspension system.
For more information about Newell StabilRide, call Boyd Vanover at 1-888-3NEWELL (1-888-363-9355).
About Newell Coach
Newell Coach Corporation is the leading designer and manufacturer of custom luxury motorcoaches. Newell coaches feature state-of-the-art design and materials, custom furnishings and appliances, and full-time customer service and support. Based in Miami, Oklahoma, Newell has been manufacturing custom coaches since 1967. For more information, visit http://www.newellcoach.com, email sales(at)newellcoach(dot)com, or call us toll-free at:1-888-363-9355.
###