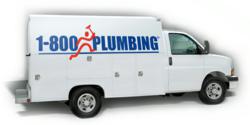 1-800-PLUMBING, its not just memorable, its un-forgettable
Columbia, SC (PRWEB) June 20, 2011
1-800-PLUMBING http://www.800plumbing.com is growing in 2011 as plumbing companies search for new strategies to provide a competitive advantage. Many plumbing companies are becoming less dependent on the yellow pages and promoting on line in a much more cost effective manner. 1-800-PLUMBING is the perfect number to use to grow a residential plumbing company by creating a memorable image in the customer's mind.
1-800-PLUMBING is a simple and powerful concept that can give companies a great competitive advantage. In addition to the number, 1-800-Plumbing Inc provides many tools and support to help make this number an integral part of a company's advertising and marketing. For companies focused on getting maximum return on the investment put into marketing and advertising dollars, 1-800-PLUMBING is a great solution.
Jeff Pindak, Plumbing Solutions, LLC http://www.800plumbing.com/plumbers/columbia-sc-plumber is the latest in a series of independent plumbing companies to utilize the power of the 1-800-PLUMBING phone number to enhance the effectiveness of marketing and advertising.
Jeff Pindak has been in the plumbing business for over 10 years and the decision was made to open Plumbing Solutions LLC 4 years ago to provide the highest quality plumbing in the most professional manner. After the first year in business Plumbing Solutions, LLC had grown to 2 trucks and revenues doubled every year. Currently, Plumbing Solutions, LLC keeps 8 service trucks on the road.
Plumbing Solutions, LLC service area is mainly in Columbia South Carolina with expansion into Lexington and NE Columbia. Some of Plumbing Solution's specialties include walk-in tubs for the physically challenged, tankless water heaters, and drain cleaning/treatment services.
Plumbing Solutions, LLC largest challenge is reaching the customer in a cost effective manner to be able to keep prices in a very affordable range. Flat rate pricing allows the company to better serve customers with no big surprises when it comes time for the bill.
New systems have been implemented in the back office to increase operational efficiency
In addition having trucks that are well stocked with parts and supplies allows better efficiency in the field. Plumbing Solutions is able to assist homeowners in all plumbing needs and now with one easy to remember phone number "1-800-PLUMBING" the company is even easier to reach. In today's competitive marketplace, this is a great strategy to keep customers from having to search on line or in the yellow pages. The 1-800-PLUMBING number will help insure customer loyalty as the possibility of a customer accidently finding another plumber in the yellow pages or on the internet is drastically reduced.
All work is guaranteed for a period of 1 year. Employees are screened and trained before entering a customer's home. Technicians arrive in clearly marked vehicles and have proper name tags for customer safety!
Plumbing Solutions is taking the smart approach to integrating the "1-800-PLUMBING" number into the business. By adding the number to one medium at a time for a period of at least 2 months to gauge its effectiveness properly will give them an accurate assessment of the effectiveness.
Current customers receive a 10% discount off already flat rate pricing.
Plumbing Solutions has a great plumbing tip:
"For anyone in need of a plumber,Call 1-800-PLUMBING"
For more information go to: http://www.800plumbing.com/plumbers/columbia-sc-plumber Plumbing Solutions LLC (June 21, 2011) is one of many plumbing companies to utilize smart marketing strategies by adopting the vanity number "1-800-PLUMBING".
http://www.800plumbing.com/plumbers/columbia-sc-plumber
1-800-PLUMBING INC., Headquarters P.O. Box 8025, Surprise, AZ 85374 Tel: 1-800-758-6298 http://www.800plumbing.com
Watch this video introduction to 1-800-PLUMBING
###