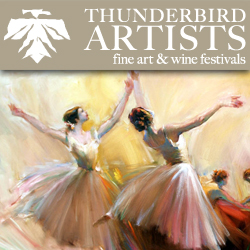 Scottsdale, Arizona (PRWEB) June 16, 2011
Ranking in 5th place for City of Scottsdale, Thunderbird Artists proudly announces that they will stage fine art events in Scottsdale for the upcoming season, November 2011 through February 2012. AmericanStyle Magazine released their 2011 reader's poll choices for the "Top 25 Arts Destinations". Arizona had four cities ranked in the top 25 cities for "art destinations" from throughout the country. For the fourth year in a row, no other major city in the country has been able to unseat the Big Three: New York City held on to first place in the Big Cities category, Chicago remained in second place and Washington D.C. stayed in number 3 spot. Phoenix, AZ ranked #15 and Tucson, AZ ranked #18. For mid-size cities St. Petersburg, Fl. held on to #1, Savannah, Ga. took #2, New Orleans ranked number 3, Charleston, S.C. took 4th place and Scottsdale, Az. ranked #5. For small cities Asheville, N.C. won by a hair over 2nd place Santa Fe, N.M 3rd place went to Gloucester, Ma, Saugatuck, Mi. took fourth place and Sarasota, Fl. held onto it's fifth position.Sedona, AZ ranked No. 6.
Thunderbird Artists stages four art events in Scottsdale. Talking Stick Fine Art & Wine Festival - Nov 25, 26 & 27, 2011. Held at the award-winning Salt River Fields at Talking Stick, this juried fine art and fine wine event is expected to quickly jump the charts as a favorite attraction for art patrons, collectors and tourists. Exhibiting on the second level, overlooking the grass fields where the Diamondbacks and Rockies spring games are held, this showing truly takes on a new and special ambiance for Thunderbird Artists' attendees. Featured bronze artist, Hal Stewart, will unveil his life-size Pima Indian Basket Lady in clay.
Arizona Fine Art EXPO – January 19th through April 1, 2012. Held on Scottsdale Road, just five miles south of Carefree in North Scottsdale, this show gives the public an opportunity to watch artists while they are working in studios. This event runs daily, 10am to 6pm, where artists will be found painting in all mediums, sculpting clay, carving, drilling or etching stone and wood, welding metal, etching paper and gourds, designing and sculpting jewelry, plus much more. Visit more than 100 artists' studios, a lovely sculpture garden, café, Artists' Marketplace, art classes, workshops, classes with models, Plein Aire painting, Artist's Garden parties and other events. The Arizona Fine Art EXPO additionally hosts the American Healing Arts Foundation (AHAF), an Arizona nonprofit organization, in collaboration with the Amigos Foundation, a 501C3 tax exempt organization. AHAF provides free art classes and art therapy classes (all supplies included) for our U.S. Veterans.
Talking Stick Fine Art, Wine & Chocolate Festival – February 10, 11 & 12, 2012. Held at Salt River Fields at Talking Stick, this juried art and wine event is expected to draw crowds with adding chocolates to the title and celebrating the Valentine's Day festivity for all those romantic at heart. Not only are the fine wines and chocolates romantic, but the views are astounding. This show is uniquely positioned on the Salt River Pima-Maricopa Indian Community with visually stunning views of Camelback Mountain to the west, McDowell Mountains to the north and the majestic Red Mountain to the east. Just past Red Mountain are the sacred Four Peaks and the Superstition Mountains where the mystery of the Lost Dutchman Gold Mine lies - greatest living legend in the American Southwest.
Waterfront Fine Art & Wine Festival – February 17, 18 & 19, 2012. Thunderbird Artists will line the banks of the Scottsdale Waterfront with the greatest juried selection of renowned artists, fine wines and talented musicians. Patrons will adore strolling throughout spectacular paintings, bronzes, glass, stone, copper, clay sculptures, photography and jewelry, all while listening to live musical entertainment and sipping fine wines. The Scottsdale Waterfront is a superb backdrop for this event providing romantic reflections across the waters mirroring tents, art and attendees.
Since 1981, Thunderbird Artists has played a very important role in uniting gifted artists with patrons from across the world by producing award-winning fine art and wine festivals. A family-run business, Thunderbird Artists' success prompted the birth of the Arizona Fine Art EXPO more than eight years ago.
To learn more about Thunderbird Artists call 480-837-5637/ http://www.ThunderbirdArtists.com.
To learn about Arizona Fine Art EXPO call 480-837-7163/
http://www.ArizonaFineArtEXPO.com.
If you are a veteran or support the veterans, please contact the non-profit charity, American Healing Arts Foundation. Dedicated to serving U.S. Veterans by providing FREE art classes, including all supplies, together with Art Therapy classes with certified & licensed art therapists by calling 480-837-5637/ http://www.AmericanHealingArtsFoundation.com.
For more information about Scottsdale visit:http://www.scottsdaleaz.gov/
###