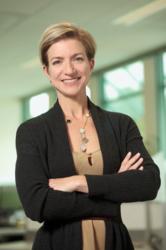 Redwood Shoes, CA (PRWEB) June 15, 2011
Rocket Fuel Inc., a digital advertising company that enables marketers to more efficiently reach their goals, from awareness to sales, across all digital media, today announced that Liza Hausman has joined the company as vice president of marketing. Reporting to CEO and co-founder George John, Ms. Hausman will be based at the company's headquarters in Redwood Shores, California.
News Facts:

Hausman will lead Rocket Fuel in a period of rapid growth, as the company brings its patented advertising technology to more top brands and agencies worldwide. The Rocket Fuel audience targeting platform combines behavioral, contextual, geographic, demographic, and many other data analytics techniques to yield results far more powerful than any other ad targeting method could on its own.
Hausman has over 15 years of experience building companies and brands spanning early-stage startups to Fortune 500 companies. A veteran of the world of traditional brand advertising at FCB, retail marketing as a consultant with Booz & Co, and online marketing with QuinStreet, one of the world´s largest direct response advertisers, she has focused on advertising accountability throughout her career.
Most recently, Hausman served as vice president of marketing at Gigya, the leading a software-as-a-service technology that makes websites social, where she successfully launched one of the first social media advertising networks and established the company as the leader in social technology for media and publishing companies.
Hausman is an active member of the IAB, and was the primary author of one of the IAB's first efforts to define social media metrics for online advertisers. She earned her BA in Rhetoric from UC Berkeley and her MBA from the Kellogg School of Management.
Quotes:
"Liza's wealth of experience across marketing disciplines – from agency media buying, to performance marketing, to social promotion – will be a major asset to Rocket Fuel," said George John, Rocket Fuel co-founder and CEO. "We are thrilled to add her to our executive team and have no doubt her expertise will help accelerate our rapid growth bringing cutting-edge targeted advertising to the world's largest agencies and brands."
"Rocket Fuel has incredible momentum as a leader in audience targeting and brand optimization technology, with unparalleled growth in revenue, a fantastic roster of brand clients, and an international footprint," said Hausman. "But it is the breadth and scale of client impact – leveraging patented technology to deliver the metrics that really matter to advertisers – that made me a true believer. It's an incredible opportunity to evangelize Rocket Fuel's technology leadership, results and vision."
Resources:
About Liza Hausman
Follow Rocket Fuel on Twitter
Follow Liza Hausman on Twitter
About Rocket Fuel Inc.
Rocket Fuel Inc. is the company bringing rocket science to digital advertising. With its patented advertising technology, the company is helping marketers reach their brand goals quickly and easily, anywhere in the purchase funnel. Rocket Fuel works with eight of the top 10 AdAge Leading National Advertisers, and eight of the top 10 Interbrand Most Valuable Brands. Over 150 million people each month see ads from its Rocket Fuel Network, which combines behavioral, contextual, geographic, demographic, and many other techniques to yield results far more powerful than any method could on its own. Rocket Fuel automatically adapts advertisers' campaigns in real-time to optimize towards their goals – whether brand-oriented or performance driven. If you can measure it, Rocket Fuel can optimize it. The Silicon Valley-based company was founded by veterans from NASA, Yahoo! and DoubleClick. In addition to its headquarters in Redwood Shores, Rocket Fuel now employs more than 100 people in eight cities including New York, Chicago, Dallas, Detroit, Los Angeles, San Francisco and London. For more information visit rocketfuel.com.
###