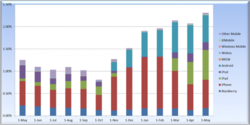 Los Altos, CA (PRWEB) June 15, 2011
ThreatMetrix™, the fastest growing provider of cloud-based fraud prevention solutions that do not require personally identifiable information (PII), today announced the launch of the new ThreatMetrix™ Fraud Facts.
ThreatMetrix Fraud Facts, which is free upon a one-time registration, will serve as an authoritative destination for online fraud statistics, reporting on data generated from more than 15 million transactions that happen on a daily basis across the ThreatMetrix™ Cloud-Based Fraud Prevention Platform. Findings will be compiled into easy-to-read charts and brief commentary on a monthly basis. The analysis will cover a range of online fraud, looking at:

Percentage of Transactions from Compromised Devices
Percentage of Transactions from Devices that have had Cookies Wiped
Percentage of Transactions from Devices that are Associated with Multiple Email Addresses
Percentage of Transactions Flagged as Higher Risk
Percentage of High-Risk Transactions by Country
Percentage of Countries with Highest Ratio of High-Risk Transactions
Mobile Transaction Volumes
Relative Mobile Transaction Volume by Country
"Today's fraudsters are implementing new strategies that vary depending on their target, industry and objective," said Bert Rankin, vice president of marketing, ThreatMetrix. "Emerging channels like smartphones and tablets, for instance, will undoubtedly become hotbeds for fraudulent activity. It's important to understand how fraudsters are targeting these new channels in order to develop strategies to defeat them. It's our goal at ThreatMetrix to not only stay on top of these trends with regular updates to the ThreatMetrix Cloud-Based Fraud Prevention Platform, but to also help educate brands about the prominence of online fraud today through tools such as ThreatMetrix Fraud Facts."
Rankin added that with the new ThreatMetrix Fraud Facts, ThreatMetrix hopes to help arm brands with background information that will help them make better decisions in approaching online fraud -- and distinguishing between good customers and those seeking to circumvent the system.
For full access to ThreatMetrix Fraud Facts, visit http://info.threatmetrix.com/FraudFactsAccess.html
About ThreatMetrix
ThreatMetrix helps companies stop web fraud and accelerate e-commerce in real-time so they can significantly reduce online fraud, acquire more customers faster, reduce costs, and increase customer satisfaction. The ThreatMetrix™ Cloud-Based Fraud Prevention Platform, incorporating ThreatMetrix™ SmartID cookieless device identification, provides online businesses with the ability to protect themselves and their customers by verifying new accounts, authorizing payments and transactions and authenticating user logins in real-time. Online businesses can deploy the ThreatMetrix Cloud-based Fraud Prevention Platform, which does not rely on personally identifiable information (PII), for traditional online activity via a personal computer as well as for mobile and tablet devices. The company serves a rapidly growing customer base around the world across a variety of industries including social networks (dating, gaming), financial services, e-commerce, affiliate marketing and payments. For more information, visit http://www.threatmetrix.com or call 1-650-625-1451.
© 2011 ThreatMetrix. All rights reserved. ThreatMetrix, the ThreatMetrix Cloud-Based Fraud Prevention Platform, ThreatMetrix SmartID, ThreatMetrix ExactID, and the ThreatMetrix logo are trademarks or registered trademarks of ThreatMetrix in the United States and other countries. All other brand, service or product names are trademarks or registered trademarks of their respective companies or owners.
###