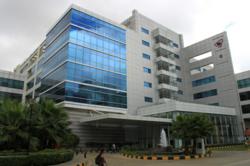 Indore, India (PRWEB) June 16, 2011
YASH Technologies, a leading technology services and outsourcing partner for global companies, today announced the opening of its new, expanded offshore development center in Bangalore, India. The new facility, located at RMZ Centennial, Survey No. 74 & 77, Kundanhalli Main Road, Opp. Graphite India, White Field, Bangalore was inaugurated at a ceremony on June 8, 2011.
By establishing a state-of-the-art development center in Bangalore, YASH is making a strong commitment to attracting and developing highly qualified talent, expanding its footprint in the Indian market, and becoming better positioned for strategic growth in support of domestic and international clients.
"Bangalore is a strategic location for YASH's long-term success," said Manoj Baheti, CEO, YASH Technologies. "The new facility will complement YASH's already strong market presence in India and our continued commitment to providing world-class solutions and services."
Towards the end 2009 and 2010, YASH realized tremendous demand in the Indian market and experienced a 340% growth of customers in the Small and Midsize Enterprise(SME) sector. YASH was recognized by SAP India with an award for the Fastest Growing Partner, Indian Subcontinent in April 2011.
YASH continues to ramp up its support, implementation and development teams to accommodate application management outsourcing engagements with existing and new customers. In addition to Bangalore, YASH has expanded its Pune and Hyderabad outsourcing development centers by 50% to support the expansion of application management contracts. YASH's additional offshore development centers are located in Mumbai and Indore, India.
For more information, please visit http://www.yash.com or email info@yash.com.
About YASH Technologies
YASH Technologies focuses on customer success. As a leading technology services and outsourcing partner for medium and large global customers, we leverage technology and our flexible delivery models to drive performance and business value throughout a customer's enterprise. YASH's comprehensive service approach incorporates a holistic view of our customers that extends beyond delivery. This approach integrates enterprise solutions and services, proprietary best practice offerings, strategic application and maintenance outsourcing, as well as consulting and integration services. YASH is a SEI CMMI (Level 3) and an ISO 9001:2008 certified company with U.S. and India headquarters and regional sales and development offices spread across three continents. YASH is also part of a select group of companies that are SAP-certified global providers of application management services. For more information, please visit http://www.yash.com or email info@yash.com.
SAP and all SAP logos are trademarks or registered trademarks of SAP AG in Germany and in several other countries.
All other product and service names mentioned are the trademarks of their respective companies.
###