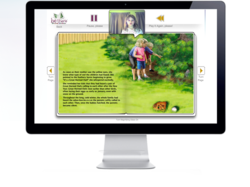 "We discovered that young readers were motivated to read Webtime Stories because of the video aspect," said Founder, Alison Sansone.
Irvine, CA (PRWEB) June 15, 2011
Research spanning a century shows that kids score lower on standardized tests at the end of the summer break than they do on the very same tests just a few months earlier. "Although school ends for the summer, reading and learning are year-round activities," said Earl Martin Phalen, CEO of Reach Out and Read. "Childhood development experts tell us that the most important thing that parents can do to prepare their children to succeed in school is to read aloud to them every day."
Be There Bedtime Stories adds a new, technological dimension to reading aloud with webcam-recorded storytelling, also known as Webtime Stories. This online platform works in three steps: 1) Choose an e-book from the online bookstore; 2) read the story in front of a webcam as it displays on the computer screen; the video is then embedded onto each page of the e-book; and 3) the Webtime Stories are accessible via link anytime, connecting young readers with family members no matter how far away.
"Storytelling has been unifying families for centuries, and reading aloud naturally fosters literacy," said Alison Sansone, founder of Be There Bedtime Stories. While she knew far-away relatives and traveling and military parents would appreciate the ability to read bedtime stories to their favorite little ones, she was pleasantly surprised that new readers also enjoyed recording a story to show off their newfound skills.
"We discovered that young readers were motivated to read Webtime Stories because of the video aspect," said Sansone. "As a result, grandparents, traveling or military parents, or other family away from the household, can participate in summer learning."
The visual cues of both the storyteller and the words on the page deliver the proven, read-aloud techniques that build literacy, regardless of whether the child is reading or listening to the Webtime Stories. To encourage summertime reading, Be There Bedtime Stories is offering an unlimited-access plan for $29.99 through Sept. 7, 2011.
About Be There Bedtime Stories
Be There Bedtime Stories is a new, online platform that combines a webcam and bedtime stories to deliver Webtime Stories™. Founded by Alison Sansone, the recorded format of Webtime Stories™ aims to provide a kid-friendly, family-bonding form of multi-media which encourages budding readers and develops early literacy skills. Currently, the company has acquired licensing from eight initial publishers to nearly 250 e-books, including a variety of genres (e.g., educational, character-building, holiday, Spanish language titles, etc.) appropriate for ages 2 through 8 years old. Be There Bedtime Stories is proud to have a recognized alliance with two leading non-profit organizations that share the value of literacy: Blue Star Families, a leading military family support organization acquiring children's books for U.S. Military Base libraries; and Reach Out and Read, an evidence-based research organization that promotes early literacy and school readiness. For more information visit Be There Bedtime Stories on Facebook.
About Reach Out and Read
Reach Out and Read is an evidence-based, national nonprofit organization that prepares America's youngest children to succeed in school by partnering with doctors to prescribe books and encourage families to read together. Reach Out and Read currently serves one-third of the most impoverished children in the U.S. The Reach Out and Read model is endorsed by the American Academy of Pediatrics, and the program has one of the strongest records of research support of any primary-care intervention. This year, Reach Out and Read's 27,000 volunteer doctors and nurse practitioners will provide 6.4 million new books to 3.9 million children at 4,654 healthcare locations in all 50 states.
# # #