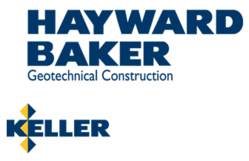 Odenton, MD (PRWEB) June 16, 2011
Hayward Baker Inc., North America's leading geotechnical contractor, announces several new leadership staff promotions and appointments involving the company's Central Region.
Jeffrey R. Hill, P.E. has been promoted to Central Region Business Development Manager. In this position, Hill will assist all offices in the Central Region, including Chicago, St. Louis, Dallas, Houston, Denver and Minneapolis, in their business development efforts. A particular concentration will be establishing close working relationships with engineering and construction firms, as well as private industry.
Hill has been employed by Hayward Baker since 2000. A certified professional engineer, he holds a B.S. degree from the University of Illinois. Notable areas of technical specialization include mine stabilization, earth retention, micropile and grouting projects. Immediately prior to this new appointment, Hill served as Hayward Baker's Area Manager based in St. Louis.
Hayward Baker also announces that Gregory A. Terri, P.E. has succeeded Jeffrey Hill as Area Manager covering the St. Louis region. Terri brings strong technical strengths to this position, including geotechnical skills and extensive earth retention and piling experience. He holds a B.S. degree in Civil Engineering from Northwestern University plus a M.S. degree in Geotechnical Civil Engineering from the University of Michigan. Terry joined Hayward Baker in 2005.
Additionally, the company announced the opening of its new Salt Lake City office with Todd E. Ross, P.E. as the new Area Manager covering the state of Utah. A Hayward Baker employee since 1997, Ross served most recently as a project manager in the Southeastern U.S. area. He served as a project manager in Atlanta prior to Greensboro, NC, for the past seven years, where he focused on ground improvement projects and business development.
In his new position, Ross is responsible for establishing Hayward Baker's new Salt Lake City office and for building the company's reputation as a local specialty contractor in Utah and securing new projects. He holds B.S. and M.S. degrees in Civil Engineering from Brigham Young University. The Salt Lake City office is located at 4001 S 700E, Suite 539/540, Salt Lake City, UT 84107. Todd Ross can be reached by phone at 801-363-0546.
About Hayward Baker Inc.
Hayward Baker Inc. is North America's largest geotechnical contractor. Ranked by ENR magazine as the #1 Foundation Contractor, Hayward Baker is the industry leader in applying ground modification technologies to site improvement and remedial work, with a 60-year record of experience. A wide range of technologies is employed in providing foundation support and rehabilitation services as well as settlement control, structural support, site improvement, soil and slope stabilization, underpinning, excavation shoring, earth retention, seismic stabilization, and ground water control. Hayward Baker is capable of offering full design-build services for virtually any geotechnical construction application.
Hayward Baker's services are provided through a network of more than 20 company-owned offices and equipment yards across the continent.
Hayward Baker Inc. is part of the Keller Group of companies, a multinational organization providing geotechnical construction services throughout the world.
###