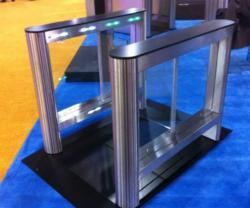 GlassGate 150 debuted at ISC West in April and we received very positive feedback.
Austin, TX (PRWEB) June 15, 2011
Smarter Security Systems, provider of intelligent entrance control and outdoor security solutions, today announced the availability of its Fastlane GlassGate 150 optical turnstile. This latest addition to the GlassGate family has advantages in size and price over current GlassGate models and is distinctively styled with an elegance befitting Fastlane.
"A preview model of GlassGate 150 debuted at ISC West in April and we received very positive feedback," said Jeff Brown, President of Smarter Security Systems. "People like the speed of the glass barriers and the small footprint. And unlike other brands, the near silent operation of the glass barriers was appreciated. We have also driven costs down to make this model more affordable which will more easily enable some building security managers to step up from tripods or pure optical turnstiles to a speedgate design."
GlassGate 150 has a unique design among Fastlane speedgates. The pedestal sides are glass which better reveals the aesthetics of the lobby. LED lane status indicator lights at the top and bottom of the pedestals create a clear visual awareness of the available directions of travel and of any alarm issues. With pedestals only 6.3" wide and 44.9" long, GlassGate 150 has the smallest footprint in the family and is the smallest speedgate in the industry. The subtle glass barriers are just below pedestal height and quickly swing away from the user in the direction of travel. Beyond the barriers, unique Fastlane optical technology based on a microprocessor with neural network programming further secures the building lobby from unauthorized access. For more information on GlassGate 150, please visit: http://www.smartersecurity.com/entry-security/speedgates.
About Smarter Security Systems, Ltd.
Smarter Security Systems provides extremely intelligent entrance control and outdoor security products to help organizations protect their people and assets in a world of increasing threats. Since 1992, Smarter Security has offered Fastlane turnstiles, the most elegant and intelligent optical turnstiles available, which protect thousands of commercial and governmental lobbies on 6 continents. Smarter Security also offers perimeter intrusion detection systems, including SmarterFence, a fiber optic fence-mounted sensor. For more information, please visit http://www.smartersecurity.com.
# # #