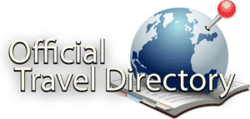 Official Travel Directory connects travelers with the right travel specialists for their needs!
Maitland, FL (PRWEB) June 15, 2011
4TravelMarketing, Inc., has officially launched the Official Travel Directory travel agent specialist listing website and has announced an expansion of the service to Apps for Apple and Android mobile devices.
"We are pleased to announce that Official Travel Directory, the comprehensive travel agent specialist search service, has officially launched online at OfficialTravelDirectory.com, and will soon be available through free Apps for Apple and Android products." said Peter Coloyan, President of 4TravelMarketing, Inc. "With over two thousand travel specialists listed, the site is already very busy helping travelers find the right travel agent with the expertise for just about any type of travel specialty or destination. Thousands are visiting the site every day!"
"It is a very comprehensive website, and allows travelers to search by keyword, or browse through over 700 categories, including travel suppliers, travel specialties, and destinations, in order to find the travel agent, or agents, that can help them with their specific needs." Coloyan continued. "Our mapping and location options can even help find the travel specialists nearest to their home, or even an agent specialist that resides at their desired destination."
OfficialTravelDirectory.com has consumer friendly search interfaces, both online and on the Apps, due out in July, which are easy and straightforward, searching the travel specialist database by keywords for specialty, destination or supplier, listing title or travel agent name. The service helps consumers find the right travel agent and helps travel agents grow their business.
"We have many agents with very niche travel specialties, and Official Travel Directory has given them a much, much larger audience than they could reach on their own!" Said Ken Gagliano, President of Travel Planners International, a travel agency which has many of their agents listed on OfficialTravelDirectory.com. "The result has been many more consumers finding the right TPI agent for the specific travel services they need!"
4TravelMarketing, Inc., headed by Coloyan, a 35 year travel industry veteran, is a unique travel marketing company located in Maitland, Florida with over fifteen hundred company owned travel websites which promote travel agents and their specialties, as well as the value of using a travel agent.
http://www.officialtraveldirectory.com
###