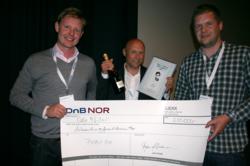 Pixavi has a comprehensive solution that has an indisputable value proposition for several markets and areas of application. Their solutions are flexible and user-friendly.
Oslo (PRWEB) June 16, 2011
Pixavi received the prestigious price for their innovative products and excellent competence. Pixavis signature product is the Xcaster. The Xcaster is a compact, wireless videoconferencing and collaboration camera, capable of communication and collaboration using high definition video and cd quality audio to any computer, video conferencing or telepresence endpoint. The Xcaster can connect from the field to anywhere in the world using a standard internet connection or a satellite link. The Xcaster user is able to connect from the field to experts and coworkers located practically anywhere, in order to solve problems and visually discuss issues and collaborate in real time. Both parties are offered an audiovisual experience so far offered only by stationary and meeting room HD videoconference systems. The result is obvious: Reduced travel cost and increased efficiency.
Christian Rokseth, CEO of Pixavi says: "Receiving this award is a big thing for us. We are entering an exiting phase with the recent launch of our new Xcaster 5000 series. Getting this recognition has been a tremendous uplift for everyone that has been involved. We now have a seal of approval from several respected and experienced people in our business that our approach and commitment to research and development has been worthwhile. It is further a great honor to be assosicated with the heritage and legend of Vebjorn Tandberg"
The jury stated:
"This years winner is entering an exiting phase after several years of product development. The company has a comprehensive solution that has an indisputable value proposition for several markets and areas of application. Their solutions are flexible and user-friendly."
YOUTUBE VIDEO FROM THE CEREMONY
Pixavi continues to develop their products to new markets. This was important for the jury. The jury wants to stimulate innovation and growth in the industry. During the seminar, several speakers focused on building competence and recruiting talent. Norway has fostered several large companies within the electronics industry. Companies like Tandberg ASA (now a part of Cisco), Nera, ASK, Q-free to mention a few. These companies are dependent on competent people. Pixavi has the necessary competence and is a good candidate for the future development of the electronics industry.
The jury also noted that Pixavi is a good example of Norwegian knowledge-intensive businesses that has been able to reach international markets.
The Jury consisted of the following members:
Karl-Christian Agerup, Managing Director of Research Park
Bjorn E. Andersen, editor journal Electronics (jury chair)
Knut Dommersnes, Managing Director of Arrow Norway
Jørn Eriksen, CEO Projectiondesign
Hans-Christian Haugli, CEO Telenor Objects
Egil Hagen, seniorrårdgiver, Innovation Norway
Per Sønsteby, former CEO Hadeland Products Inc. (Hapro)
Einar J. Aas, Professor, Department of Electronics and Telecommunications, NTNU
Diplomas were handed out to the two other finalists:
Energy Micro AS for its energy-friendly microcontrollers and radio pieces.
Emit AS for its electronic punching and timing system (EKT) for orientation and other sports, along with emiTag chip.
The award carries the name of Vebjorn Tandberg for many reasons. Vebjorn Tandberg was a Norwegian manager and electronics engineer with education form NTH in Trondheim, Norway. He started Tandberg Radiofabrikk in Oslo in the 1930s. They made affordable, user-friendly radios. Tandberg Radios is still present in many Norwegian homes. Tandberg's enthusiasm and creativity was important for the creating of many Norwegian firms in the electronics industry. Tandberg was also a pioneer in labor rights. As early as 1937, he gave his employees three-week holiday, pensions and health insurance. This was before the Norwegian welfare state.
###