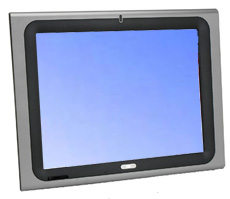 Touch Panel PC with Core i3/i5/i7 processor
Walnut, CA (PRWEB) June 16, 2011
Acnodes Corp. today announced its new line of industrial grade touch screen panel PCs featuring large, WXGA-resolution LCD displays, mobile Intel Core i processors.
The PC7395 comes with 19-inch diagonal, 1280-by-1024 resolution LCD display, PC7375 comes with a 17-inch diagonal and 1280-by-1024 resolution as well as the PC7355 built around a 15-inch diagonal 1024-by-768 resolution display. The screen is its own pointing device thanks to the built-in 5-wire resistive touch screen controller. Screen settings can be adjusted using the small membrane keypad on the front panel or under Windows via an On Screen Display software utility that comes with the system.
All three computers have sealed front panels with IP65 ratings made of durable, lightweight ABS plastic that protect against dust and water splashes.
As rugged as these computers are, the turbo-enhanced performance of Core i processor technology and DDR-3 memory and the data integrity and storage protection of solid state hard drives become even more important reasons for getting these systems for applications that have proven to bog down with more bottle-necked hardware systems.
The standard configuration of the includes a Core i3 350M 2.26 GHz processor, 2GB DDR-3 RAM and 120GB 2.5" SATA hard drive and is upgradeable up to a Core i7-620M at 2.66GHz, up to 8GB RAM. Thees panel PCs included dual Gigabit LAN. Wireless LAN with Bluetooth is available as option for those who also purchase the desktop stand. They use the computer's available mini PCI-e card slot.
Additional standard features include onboard audio and video, four USB 2.0 ports, an RS-232 and RS-232/425/485 port, audio line-out. There is even an HDMI port.
Despite its high performance and numerous features, the PC7395 consumes only 87W of power. Standard warranty is one-year parts and labor.
Features
15", 17", 19" diagonal 1280x1024/ 1024x768 WXGA resolution- PC7355,PC7375/PC7395
Mobile Intel Core i3-350M 2.26GHz processors
120GB 2.5" SATA hard drives
2GB DDR-3 RAM
Supports dual Gigabit LAN
Supports on board audio and video, four USB 2.0 ports and RS-232, RS 232/ 425/ 485 port
12VDC input power supply from 90VAC~264VAC
PC7355 15" Panel PC detail information
PC7375 17" Panel PC detail information
PC7395 19" Panel PC detail information
Another Panel PC-Slim type, no expansion slot
To buy this product or for more information call (909 ) 597-7588 or visit the Acnodes website at http://www.acnodes.com.
###