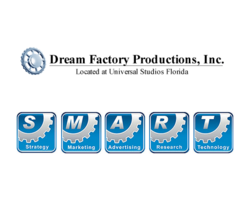 In the next five years, Brazilian companies must face the challenge of modernizing their marketing efforts with an agency that can bridge this business technology gap.
Orlando, FL (PRWEB) June 15, 2011
Dream Factory Productions, a marketing, advertising and public relations agency located at Universal Studios Florida, is launching a strategic initiative to develop new business through the opportunity presented by Brazil's thriving economy and its companies' growing interest in doing business with American markets.
In the Fall of 2010, the Orlando-based ad agency held a round-table conference for SEBRAE—a Brazilian organization focused on promoting entrepreneurial development, similar to the U.S. Small Business Administration—where a delegation of business owners discussed the opportunity of Brazil's trade with the United States, as well as recognizing cultural differences between American and Brazilian business customs.
As a delegation of members seeking to do business with U.S. companies, it was necessary for SEBRAE's delegation to become accustomed to American business customs and cultural behaviors, prompting its members to seek the help of Dream Factory based on the agency's experience in global trade and business development.
Following the success of the SEBRAE conference, Dream Factory launched its Brazil-U.S. initiative on June 1st, 2011, after months of market research that identified sectors offering Brazilian companies the potential to build new markets in the United States—including retail, hospitality, industrial, agricultural and production supply companies.
Paulo Cigagna, CEO of Dream Factory Productions, is an advocate for Brazilian businesses with the potential for global expansion in the U.S. who supports their interest in growing by tapping in the recovering American market.
Cigagna added that to establish a brand in the proper global context requires strong knowledge of the local buying behavior and points out it is not enough to translate information—business owners need to migrate the company's brand, familiarize themselves with the target audience and seek the assistance of an experienced partner as a basic premise for bridging markets in Brazil and the U.S.
Dream Factory—which works with has been working with a portfolio of companies in global markets for over 11 years—believes that the future of advertising and brand development in the global market begins with the growth and development of the brand in the digital arena.
"In the next five years, Brazilian companies must face the challenge of modernizing their marketing efforts with an agency that can bridge this business technology gap", said Cigagna. "Mass communication in the U.S. is not about what you sell, but what the buyer wants".
Cigagna, who began his career in advertising in Brazil, also talked with Brazilian executives about the importance of understanding the bureaucratic process of import and export, copyrights, trademarks and patents to ensure the effectiveness of their global business endeavors.
With the fast growing population of Brazilians in Central Florida, Dream Factory has experienced increased involvement in U.S.-Brazilian business relations and its new strategic initiative expects to continue growing as Brazil—which is the host of the 2014 FIFA World Cup and the 2016 Olympics—continues to create business opportunity for companies with a global outlook.
ABOUT DREAM FACTORY PRODUCTIONS:
Dream Factory Productions is an integrated marketing communications agency located at Universal Studios' Production Facilities in Orlando, Florida, with offices in Brazil as well The agency provides a mix of services and solutions in diverse competencies to include strategy, marketing, advertising, research, technology and video production. Dream Factory Productions offers a wide scope of services ranging from graphic and web design to the development of marketing and branding strategies to penetrate local, national and global markets.
To learn more about Dream Factory Productions, visit http://www.DreamFactoryProductions.com.
###