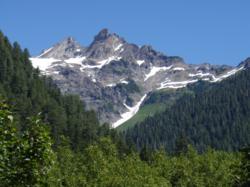 Olympic is such an amazingly diverse National Park that I discover something new every time I hike there. - Ray Hendricks
Chandler, Arizona (PRWEB) June 21, 2011
Just Roughin' It Adventure Company is now offering extended backpacking trips through Olympic National Park in Washington. Because of the park's incredible diversity, Just Roughin' It is able to offer something for every outdoor adventurer. These fun filled excursions take you through rain forests, around glacier-capped mountains, and along sandy beaches.
3 million visitors venture to Olympic National Park each year, none of which leave disappointed. This park is home to 300 different species of birds, 37 species of fish, and many other natural features and ecosystems. One hiker might get to see Mount Olympus and the Sol Duc Falls, while another might have to battle high tides to catch a glimpse of its many tide pools.
No matter what level of experience, everyone will find a trip that fits. Just Roughin' It Adventure Company hosts several different 3 to 6 day backpacking adventures starting at $600 per person. Each journey through Olympic has its own certified guide to show you the ropes, teach you the tricks of the trail, and even prepare your food. Trips also include all necessary gear and permits. On a Just Roughin' It adventure, unforgettable experiences are endless; everywhere you look there is something new and exciting to see. Here are just a couple examples.
Olympic Coastline. This 3 to 6 day backpacking trip starts in Forks, Washington; then ventures through steep trails down to the coastline. Here guests have to beat high tide before they can see Olympic's many tide pools filled with a variety of sea creatures. The trek continues for miles down the beautiful coastline past Falls, Mosquito, and Goodman Creeks to Jefferson Cove.
Enchanted Valley. When backpacking on this spectacular tour, hikers will get a taste of pretty much everything. After the 13-mile expedition through Olympic's huge rainforest, the trees open to the Valley of a Thousand Waterfalls, or the Enchanted Valley. Guests also get a chance to hike around Linsley Glacier on Mt Anderson.
About Just Roughin' It.
Just Roughin' It Adventure Company has been specializing in hiking tours and backcountry hikes through the Grand Canyon, as well as other destinations including Superstition Mountains, Yosemite National Park, Paria Canyon, Aravaipa Canyon and other southern Arizona destinations since 2007. The company offers small group tours for adults and children 12 and older of any experience level. For tips and reviews visit Just Roughin' Its blog at blog.justroughinit.com. For more information or to book a tour feel free to call (877) 399-2477 or visit http://www.justroughinit.com.
# # #