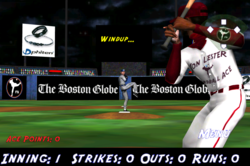 Boston, MA (PRWEB) June 15, 2011
Enter today to catch Red Sox action from killer seats at the Sox vs. Mariners on Friday, July 22, 2011, courtesy of Tickets-For-Charity®. Stay free for a night at Fenway's luxury accommodations, Hotel Commonwealth. Enjoy a complementary dinner at Eastern Standard and pre-game at the best baseball bar in Beantown, Jerry Remy's. This Red Sox Night Out prize package is brought to you by Jon Lester's new 3-D mobile app Hardball Ace.
Entering is easy! Go to http://www.facetheacegames.com and enter-to-win the premium Red Sox Night Out prize package. But prizes don't stop there! Download the game, log in a profile, and play in "The League" to win! Weekly leaderboard scores win an autographed Jon Lester baseball. The top two minor and major league scores win a Jon Lester Hardball Ace T-shirt.
Jon Lester Hardball Ace is available for FREE download at the iTunes Store or Android Market for 3GS devices or better. The Hardball Ace promotion runs from 6/15/11 through 7/7/11.
Red Sox Night Out Prize Pack Details
Face the Ace, creators of Jon Lester Hardball Ace, have paired the greatest sponsors in and around Fenway to bring the greatest fans on earth a chance to win an all-star evening. The package includes incredible Sox seats that will bring fans up close to the action at the Sox vs. Mariners game on Friday, July 22nd. Tickets courtesy of Tickets-For-Charity®, a unique new way to access Red Sox tickets, from Monsters to Grandstands, at a better price than you'd find anywhere else. Every ticket purchase directly benefits The Red Sox Foundation. The Red Sox Night Out promotion runs from 6/15/11 through 7/14/11. Winners will be announced on July 15, 2011.
The night also includes a free stay at Fenway's luxurious accommodations, Hotel Commonwealth, an elegant boutique hotel in the prestigious Back Bay offering guests a relaxing and elegant oasis. Start off the evening with one of Eastern Standard's signature dishes. From the best burgers in Beantown to a salad Niçoise, a $125 gift card will cover a mouth-watering dinner and award winning cocktails for two. Then head to Jerry Remy's Bar and Grill to catch some pre-game highlights on one of their 132" by 72" MONSTER screens with a $100 gift certificate towards more food or drinks at its fully stocked bar featuring 20 beers on draft and an extensive wine list.
To kick off the online promotion, join Face the Ace, Naragansett Beer and Tickets-For-Charity at Jerry Remy's on Monday June 20, 2011 from 5pm to 7pm for some pre-game action and another chance to WIN. Fans can download the FREE app, enjoy a complementary drink on Gansett and win a pair of tickets to the June, 22nd game versus the San Diego Padres courtesy of Tickets-for-Charity.
About Face the Ace Games
Face the Ace Games is a developer of 3D mobile games and applications with offices in Chicago and Maui, Hawaii. Our mobile model combines ultra realistic graphics and an interactive social strategy to deliver a one-of-a-kind entertainment experience and a unique in-game marketing opportunity for potential sponsors. The team includes: Jim Langford, Chief Technology Officer, founder of Pacific Technology, and the revolutionary developer of the first successful time-based tracking system for vacation ownership in sales galleries implemented worldwide for Starwood Hotels & Resorts™, Hilton International™ among others; Jeremy Bargiel, Chief Operating Officer, an Emmy-nominated writer and producer for the Disney Channel, Nickelodeon, and the Cartoon Network; David Nolte, Game Designer and Project Manager, a 20-plus year vet of the electronic game industry who previously worked with EA Mobile as the general manager for their Hawaii studio (formerly Blue Lava Wireless); and Rob Maylor, Business Development and Executive Produce, an attorney, former celebrity ghostwriter and the co-founder of Distilled Clothing. He served as General Counsel for Distilled, in addition to spear heading their sales strategy and brand development until its acquisition in 2009.
Visit http://www.facetheacegames.com and follow us on Twitter @facetheacegames or Like us on Facebook.
About Jon Lester
Jon Lester is a left-handed MLB All-Star starting pitcher for the Boston Red Sox. Lester has a career record of 68-27 and 3.58 ERA. Born in 1984 in Tacoma, Washington, he was drafted to the team in 2006 and was diagnosed with non-Hodgkin lymphoma sidelining him for part of his first season with the team. After a successful treatment, Lester returned stronger than ever, and has since had an extremely successful career with the team including highlights of: being selected as an MLB All-Star in 2010, winning the World Series in 2007, pitching a no-hitter in 2008, and being awarded with both the Tony Conigliaro Award (2007) and Hutch Award (2008). His 2011 record is 7-2 with a .394 ERA.
###